National Tour of "Frost / Nixon"
Plays The Colonial January 27 - February 8
Legendary Confrontation Stars Stacy Keach as Richard Nixon
"Frost/Nixon," the 2007 Tony Award -nominated play by Peter Morgan, is coming to Boston's Colonial Theatre for a limited two-week engagement January 27 – February 8, 2009. The award-winning Morgan is also the author of "The Last King of Scotland" and "The Queen."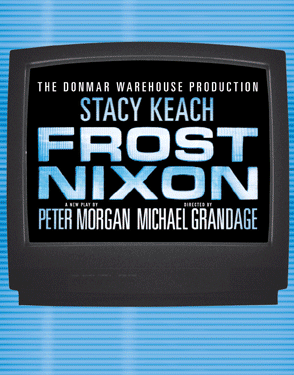 How was it that a famous British talk-show host with a playboy reputation was the one to elicit the apology the world was waiting to hear from a former U.S. president? This fast-paced new play shows the determination, conviction and lengths that David Frost and Richard Nixon went to as they took the stage in one of the most hard-fought political interviews in history.
Celebrated stage and screen actor Stacy Keach takes on the role of President Nixon and is joined by Alan Cox as David Frost. Michael Grandage (Artistic Director of London's Donmar Warehouse), who directed the original London and Broadway productions, directs the tour with associate director Seth Sklar-Heyn.
"Frost/Nixon" debuted in a sold-out run at London's Donmar Warehouse before transferring to the West End, winning a 2006 Evening Standard Award. The show opened on Broadway in April of 2007, and played a limited five-month engagement where it garnered Tony nominations for Best Play and Best Direction.
Critics in London and New York raved about the production. The New York Times enthused, "A victory! 'Frost/Nixon' is a nail-biting thriller with the zing of a comedy." The New York Post added it's "A prize fight you watch with the kind of fascinated delight rare in the theater." And The Philadelphia Inquirer said "Morgan's arresting play captures the moment, the era – and the audience. By aiming its stage lights on the two men, 'Frost/Nixon' illuminates history. In the process, we are brighter."
Peter Morgan received the Best Screenplay Award at the 2006 Venice Film Festival for "The Queen" starring Helen Mirren and Michael Sheen. "The Queen" also earned Morgan Golden Globe, New York Film Critics, Los Angeles Film Critics and British Independent Film Awards and an Academy Award nomination for his screenplay. His "The Last King of Scotland" earned him a British Independent Film Award nomination. His other film work includes "Martha," "Meet Frank, Daniel and Laurence," and "The Other Boleyn Girl" with Scarlett Johansson. His film "Longford" is currently in rotation on HBO.
The Donmar Warehouse, one of the UK's leading producing theaters, is a subsidized (not-for-profit) company located in London's Covent Garden. Under the artistic directorship of Michael Grandage the theater has garnered critical acclaim at home and abroad, producing at least 6 productions a year as well as a touring program. Donmar productions have received 30 Olivier Awards, 15 Critics' Circle Awards, 15 Evening Standard Awards, and 13 Tony Awards from 9 Broadway productions.
Donmar-generated work in New York has included "Cabaret" on Broadway, directed by Sam Mendes and Rob Marshall (1998); "Electra" starring Zoë Wanamaker at the McCarter Theatre and later on Broadway (1998; Tony Award nomination: Best Play); "The Blue Room" with Nicole Kidman and Iain Glen (1998); the multi award-winning "The Real Thing" (Tony Award Best Play Revival) directed by David Leveaux in 2000; "True West" directed by Matthew Warchus; The Public Theater and Donmar collaboration of "Take Me Out" (winner of the Tony Award for Best New Play) (2002/2003); "Twelfth Night/Uncle Vanya" at the Brooklyn Academy of Music (2003); and "Nine" (2003). The Donmar Warehouse production of "Mary Stuart" featuring Janet McTeer and Harriet Walter opens on Broadway next Spring.
Stacy Keach, who has excelled in many of the classic and contemporary stage's greatest roles, has been called one of America's preeminent interpreters of Shakespeare. Keach began his professional career with the New York Shakespeare Festival in 1964. He received the first of his three Obie Awards for his work in the off-Broadway political satire, "MacBird." His numerous Broadway credits include "Indians"(Tony Award nomination); "Deathtrap;" the Pulitzer Prize-winning "Kentucky Cycle" (Helen Hayes Award for Best Actor) and "Solitary Confinement." Keach currently appears in Oliver Stone's cinematic portrait of George W. Bush, "W." He is celebrated worldwide for his hit series as hard-boiled detective, "Mike Hammer," as the irascible, Dad on the Fox sitcom, "Titus" and as the warden on "Prison Break." John Huston once said "Stacy is not a star. He is a constellation. The audience will come to see whatever character he portrays."
Before attending the London Academy of Music and Dramatic Art, Alan Cox worked extensively as a child actor, most memorably in "A Voyage Around My Father" with Sir Laurence Olivier and as Young Watson in "Young Sherlock Holmes." Moving to the United States in 2007, he made his Broadway debut in the Tony-nominated production of "Translations" by Brian Friel for the Manhattan Theatre Club and also appeared in "Passion Play" by Sarah Ruhl at the Goodman Theatre in Chicago. He made his London West End debut at the age of thirteen in "Strange Interlude" and more recently appeared there in "The Creeper" and "The Importance of Being Earnest." He has appeared in "Flahooley" and "50 Million Frenchmen" for the Discovering Lost Musical series and "Chu Chin Chow" in the Celebrating British Music Theatre series. He directed the surprise hit of the 2004 Edinburgh Festival, "Dirty Fan Male" (Gilded Balloon) as well as "Flanders Mare" (Sound Theatre), "The Riot Act" (the Gate) and "A R" (Theatre 503). He previously worked with Stacy Keach on a radio adaptation of "The Plutocrat" by Booth Tarkington.
For tickets and information, visit the Colonial box office, call 1-800-982-2787 or visit www.BroadwayAcrossAmerica.com/Boston.
-- OnStage Boston