Lea DeLaria Kicks Off
Huntington Cabaret Series
Berklee Students To Be Featured
The Huntington Theatre Company has created a new Cabaret Series entitled Upstairs at the Calderwood. Being presented at the Calderwood Pavilion at the Boston Center for the Arts, the new series will feature Broadway, jazz, and contemporary artists ranging from Tony-nominees to the emerging voices of tomorrow. The Boston Center for the Arts is located at 527 Tremont Street in Boston's South End.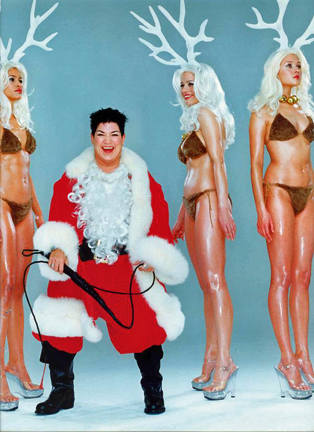 The series begins on December 11 with an evening of Christmas songs by Broadway singer and actress Lea DeLaria (left) and continues with "Berklee @ Upstairs at the Calderwood," featuring six of Boston's most promising emerging musical artists.
Artistic Director Peter DuBois commented, "If Ethel Merman and Ella Fitzgerald had a love child, it would be Lea DeLaria. From the first time I saw her, delivering a definitive performance as Hildy in George C. Wolfe's production of 'On the Town,' I was struck by her huge spirit and the sheer joy she takes in interpreting musical comedy. I'm thrilled that we're inaugurating our new cabaret series with this unstoppable talent."

He also said, "Upstairs at the Calderwood is our invitation to Bostonians to come in from the cold, have a drink, and indulge in some of the hottest musical acts that New York and Boston have to offer."
Lea DeLaria has performed at the London, New York, JVC, and Montreux Jazz Festivals, and as the featured vocalist of the 50th Anniversary of the Newport Jazz Festival anniversary tour. Her nightclub acts and concert performances include "Judy Garland Tribute," "My Favorite Broadway – the Leading Ladies," "Billie Holiday Tribute," "Jazz Salute to Sondheim," "Harold Arlen 100th Birthday Celebration at Carnegie Hall," and more. Her jazz CDs include "Play it Cool" (named the Best Jazz Album of 2001 by The London Times), "Double Standards," "The Very Best of Lea DeLaria," and "The Live Smoke Sessions."

She appeared on Broadway in "On the Town" (OBIE Award and Drama Desk nomination), Off Broadway in "The Rocky Horror Show" and "The Most Fabulous Story Ever Told," and in the national tour of "Chicago." Her film appearances include "The First Wives Club" and "Edge of Seventeen." Her performance of "Blue Skies" in "Edge of Seventeen" earned her a 1999 Gay & Lesbian Music Award (GLAMA).
"Berklee @ Upstairs at the Calderwood" runs January 22 through January 31, 2009, and features student talent from the renowned Berklee College of Music. With performances each evening at 8 and 10 p.m., the schedule is as follows:
Amy & The Electric
Thursday, January 22, 2009
Internationally-recognized, Amy Crawford presents melodic piano interpretations and cool vocals that recall the sounds of Peggy Lee, Sheryl Crow and Norah Jones.
Sol Melodiq
Friday, January 23, 2009
A Boston-based ensemble of six that combine elements of jazz, hip-hop, soul, funk, and gospel to create an offbeat sound.
Latin Jazz All Stars
Saturday, January 24, 2009
Down Beat's Best College Jazz Band of 2008.
A six-member ensemble performing a salsa-infused blend of musical styles from around the globe.
Florencia Gonzalez
Thursday, January 29, 2009
A composer, arranger and saxophonist, Florencia Gonzalez has been inspired by the rhythms of her native Uruguay to create a visionary style of jazz-infused bossa nova that recalls Leonard Bernstein's score for "West Side Story."
Manami Morita
Friday, January 30, 2009
A trained classical pianist from Japan, Manami Morita presents instrumentals offering a collision of classical melodies and American jazz backbeats.
Andrei Matorin
Saturday, January 31, 2009
Recognized by The Boston Globe, jazz violinist Andrei Matorin's unique original melodies come to life amid the up-tempo syncopations of the jazz ensemble that accompanies him.
For information and tickets, stop by the box office, call 617 266-0800 or visit www.huntingtontheatre.org
-- OnStage Boston