---

Huntington Presents
Kate Burton In "The Corn Is Green"
January 9 - February 8
Nicholas Martin Returns To Direct
Huntington Theatre Company Artist Emeritus Nicholas Martin will return to Boston to direct "The Corn is Green," Emlyn Williams' classic story of an inspirational teacher and the power of human connection.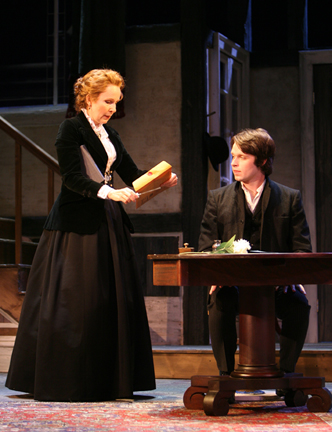 The production stars acclaimed actress Kate Burton (at left), last seen at the Huntington in Martin's production of Anton Chekhov's "The Cherry Orchard." Burton's son, Morgan Ritchie (at left), appears as the student whose life is transformed. Performances are January 9 – February 8, 2009, on the Huntington's main stage.
Martin, Burton, and Ritchie are reuniting after receiving critical acclaim for their production of "The Corn is Green" at the Williamstown Theatre Festival in 2007, about which Variety wrote, "Kate Burton is dazzling in Nicholas Martin's moving and inspired revival."

"The Corn Is Green" tells the story of Miss Moffat, an idealistic and hard-nosed school teacher who moves to a small Welsh mining town to open its first school. When she discovers unexpected promise in Morgan Evans, a gifted but illiterate teenager, she guides his ascent from bully to brilliant student.

The play is a personal one, inspired by Emlyn Williams' own relationship with a transformative teacher he encountered in his rural Welsh hometown. Williams himself portrayed schoolboy Evans in the production's 1938 premiere in London, which he also directed. The play itself enjoyed great success in London and on Broadway where it played for three years in its initial run.
Nicholas Martin commented, "This play concerns itself with and the indomitable nature of its leading character, played by the indomitable Kate Burton, and where we are in the world today and particularly in this country. I think there's a kind of symmetry between us opening this play at the same time as in Washington, there is hope and there is fondness and there is love."

In another interesting personal note, Burton's father, renowned actor Richard Burton, became close to Williams after appearing in one of his plays. Like the playwright, Burton later portrayed the character of Morgan Evans in the BBC's 1947 production. The two Welshmen remained close, with Burton naming Williams godfather to his daughter Kate when she was born.

Kate Burton now follows in a long line of renowned actresses who have played the role of Miss Moffat over the years, including Ethel Barrymore, Bette Davis and Katharine Hepburn. Adding even further to the personal resonance of this production, she plays opposite her son who follows in his grandfather's footsteps more than sixty years later.

Williams' twenty plays include "Night Must Fall," "A Murder Has Been Arrange" and "The Druid's Rest." He directed frequently for stages both in the West End and on Broadway. His numerous performance credits include international tours performing readings from the works of Charles Dickens and Dylan Thomas, as well as appearing in his own plays and 41 films. A prolific screenwriter, he wrote, directed, and appeared in the film "The Last Days of Dolwyn."

As Artistic Director of the Huntington from 2000 until 2008, Martin directed many acclaimed and hit productions including "She Loves Me," "Present Laughter" and "Butley" with Nathan Lane, which transferred to Broadway. In addition to previously directing Burton at the Huntington in "The Cherry Orchard," the two also teamed up on "Hedda Gabler," which transferred to Broadway and earned Burton a Tony Award nomination. Martin recently directed "The House of Blue Leaves" at the Mark Taper Forum and "Saturn Returns for Lincoln Center Theater." He is Artistic Director of the Williamstown Theatre Festival.

"I'm excited that Nicky and Kate are coming back," commented current Artistic Director Peter DuBois. "I want the Huntington to remain an artistic home for both of them, and with Morgan, we'll introduce Boston to the next generation of this remarkable family of artists."

Kate Burton recently appeared on Broadway in the Tony Award-winning musical "Spring Awakening," in the Encores! revival of "Applause" at City Center, and in "The Corn is Green" at the Williamstown Theatre Festival. She is a three-time Tony Award nominee for her appearances in "The Constant Wife," "Hedda Gabler" and "The Elephant Man," and a two-time Emmy Award nominee for her appearances on the ABC-TV series "Grey's Anatomy."
Morgan Ritchie has appeared in "The Corn is Green," "A Midsummer Night's Dream," "Big Money," and "Street Scene," among others at the Williamstown Theatre Festival and is currently attending Brown University.

The cast also features Will LeBow, Bobbie Steinbach, Kristine Nielsen, Roderick McLachlan and Mary Faber.

Related Events (free with ticket purchase to the indicated performances)

Thursday, January 15, at 7:30 p.m.
Post-show Out & About Club

Sunday, January, at 2 p.m.
Post-show Humanities Forum with guest speaker
Thursday, January 29, at 7:30 p.m.
Actors Forum with cast members

Saturday, January 31, at 2 p.m.
Audio-Described Performance

Wednesday, February 4, at 2 p.m.
Actors Forum with cast members

Friday, February 6, at 8 p.m.
American Sign Language-interpreted performance
For tickets and information, stop by the box office, call 617-266-0800 or visit www.huntingtontheatre.org.
Production Photo: Joan Marcus
-- OnStage Boston