Nora Theatre
Begins New Year
With Chekhov
The New Year at Central Square Theater begins with The Nora Theatre Company's production of Anton Chekhov's "The Cherry Orchard." In a new translation by George Malko written expressly for the company, this masterpiece of clashing values plays January 8 - February 1, 2009. "The Cherry Orchard " ranks as Chekhov's final and most famous work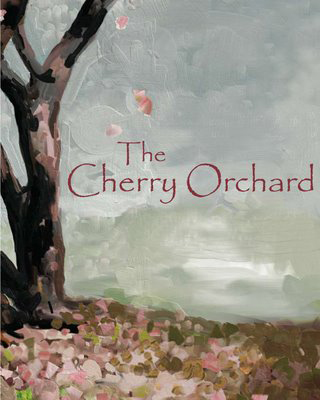 Set in 1904, the funny yet heartbreaking story chronicles the decline of the Russian aristocracy at the turn of the 20th century through the tale of a family's futile attempt to save their beloved cherry orchard. After having returned to their ancestral estate to find that their family fortune has dwindled to practically nothing, they seem incapable of saving themselves from disaster, while ignoring all offers of help and refusing to see the inevitability of change.
The Nora Theatre Company's production of "The Cherry Orchard" features an ensemble of Boston area favorites, including award-winning actress Annette Miller as Madame Ranyevskaya, Ken Baltin as Lopahin and Michael Balcanoff as Gayev. This production reunites Miller with director Daniel Gidron who worked so successfully together on "Golda's Balcony" at Shakespeare & Company and on "Full Gallop" at both The Nora and Shakespeare & Company.
Annette Miller recently starred in The Nora's critically acclaimed "Martha Mitchell Calling" at Central Square Theater. Previously, she created Diana Vreeland in "Full Gallop" and before that was the Bag Lady in "Eastern Standard" for The Nora Theatre Company. Miller is the winner of the 2003 IRNE Award and Elliot Norton Award for Best Solo Performance as Golda Meir in "Golda's Balcony."
Ken Baltin has been performing on Boston area stages for the past twenty years. Previously this season he appeared in "Eurydice" at the New Repertory Theatre. Other recent credits include "Copenhagen" at the Vineyard Playhouse, Leslie Epstein's "King of the Jews," produced by Boston Playwrights' Theatre, "Arms and the Man" at the Lyric Stage Company of Boston, and the premiere production of "Permanent Whole Life" by Zayd Dohrn at Boston Playwrights' Theatre, which was awarded 2005 Best New Play by the Independent Reviewers of New England.
Michael Balcanoff has been seen at Wellfleet Harbor Actors Theater in "What Then" and "Proof." Other credits include "Picasso at the Lapin Agile," "Good Woman of Setzuan," "Archangels Don't Play Pinball," and "Gillette" with American Repertory Theatre; "Ah Wilderness" at the Huntington; "King of the Jews" at Boston Playwrights' Theatre; "Night of the Iguana" at New Rep; "The Price" at Gloucester Stage; and "Entertaining Mr. Sloane" at Lyric Stage.
Daniel Gidron, The Nora's Associate Director, recently directed "We Won't Pay! We Won't Pay!" for the company at Central Square Theater. An IRNE Award nominee for Best Director, Small Theater for The Nora's production of "Buried Child," Gidron has directed more than 15 productions for The Nora, as well as for the Lyric Stage Company, Shakespeare & Company, Peterborough Players, Jewish Theatre of New England, and Merrimack Repertory Theatre among many others locally, as well as in Israel.

For tickets and info, call 866-811-4111 or visit www.centralsquaretheater.org
-- OnStage Boston