Cirque Le Masque's "Carnivale"
At Cutler Majestic
January 21 - 25
From Paris to Athens, Dubai, South America and across the United States, audiences have thrilled to the theatrical wizardry of Cirque Le Masque. Now, it's Boston's turn.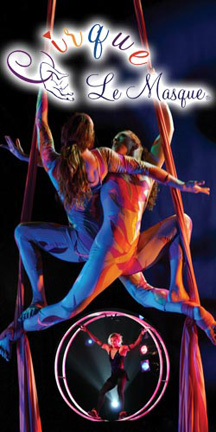 The Cutler Majestic Theatre will present Cirque Le Masque's "Carnivale" for six performances only, January 21- 25, 2009. This sophisticated, animal-free, family-friendly European-style circus features aerialists performing acts of balance, grace, strength and detailed teamwork along with costumed jugglers, acrobats, and comics, all set to exceptional special effects and inventive lighting, choreography and music.
Previously featured on NBC's "The Today Show," Cirque Le Masque recruits the best acts in the world for intimate theaters such as the Cutler Majestic in Boston's Theatre District.
"Carnivale" tells the story of young Moira, tired of the cacophony of city life, as she imagines her dream of joining the circus in Rio De Janeiro. The fast-paced 90 minute journey features a trapeze and dueling silk act by the reigning World Champion twins Serenity Smith Forchion and Elsie Smith (originally from Vermont); acrobatics on a giant "German wheel" by former Cirque de Soliel star Andrei Roublev; Bulgarian aerial performer Stoyan "the flying man" Metchkarov; slack wire acrobatics by former Moscow Circus star Evgeny Vasilenko; a jump rope act that includes audience participation; aerial acrobatics by brothers Max and Roberto Laurino; cube juggler Danny Perez; duo contortionists Khongorzul Tseenoidov and Uugantuya Otgongayar; a strength and balance performance by The Garza Family; and a supporting cast of seven Cirque Le Masque dancers.
Artistic Directors Dennis and Bernie Schussel have produced spectacular entertainment since 1980, receiving the highest praise for their dedication to presenting the world's finest creative artists. According to Dennis, "We love passionately what we do and who we do it with, and think it shows in every single performance."
For tickets and information, stop by the box office at 219 Tremont Street, call 1-800-233-3123 or visit www.maj.org.
-- OnStage Boston