"M I T Z I"
Brings Razzle Dazzle To PBS
By R. J. Donovan
For die-hard fans of the stage, PBS continues to serve as a showcase of unique theatrical entertainment. Presenting live Broadway performances from "Light In The Piazza" to "Contact" and "Kiss Me Kate," PBS continues to scan the radar for the unusual. Coming up later this season is a concert version of "Chess," from London's Royal Albert Hall starring, among others, Idina Menzel, Josh Groban and Adam Pascal.
Last Spring, the documentary "Music and Lyrics By Jerry Herman" showcased the composer as never before, sharing previously unseen live performance footage of several of his shows, including "Mame," "Dear World" and "Mack & Mabel." Clearly, this is not material you can access elsewhere.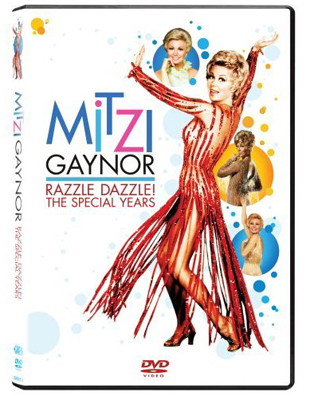 So let this serve as a heads-up to keep an eye open for "Mitzi Gaynor: Razzle-Dazzle, The Special Years." PBS will be airing this show nationally during its upcoming pledge drive.
Mitzi may be best known for such hit musical films as "South Pacific," "Les Girls," and "There's No Business Like Show Business," however when she appeared live on stage, she just soared.
The documentary features interviews with the song and dance star herself, award-winning costume designer Bob Mackie, Kelli O'Hara (currently starring in "South Pacific" at Lincoln Center), and Tony Award winner Kristen Chenowith, among others, along with rare archival footage and lots more.
Star of stage and screen, Mitzi Gaynor created television "specials" when the word actually meant something. Unlike today's extravaganzas that depend on laser shows, aerial artists and exploding smoke canisters for excitement, Mitzi's annual TV romps were meticulously executed shows that relied on song, dance and talent for their fireworks.
Mitzi last appeared onstage in New England several years back, starring in a national tour of "Anything Goes." Prior to that, she was a mainstay at many of our summer theaters, packing the houses with her annual two hour-plus concert shows that were as beautifully staged and costumed as many Broadway productions.
(In the spirit of full disclosure, I publicized many of Mitzi's shows during those years.)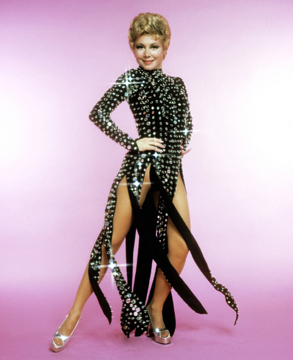 Trivia fans will remember that she also held the unique distinction of headlining on "The Ed Sullivan Show" the same night The Beatles appeared, playing to a live television audience of an estimated 70 million viewers.
Unlike many concert artists who pull together a set list of their hits and tour similar versions of the same show year after year after year, Mitzi and her creative team (led by her husband and manager, the late Jack Bean) approached live performances in an entirely different way. Her shows were totally new every year from overture to curtain call -- one reason why she consistently played to sold out houses. Once you saw her live in concert, you were hooked -- audiences had to see her every time she appeared.
Further, once she set the pace, her fans came to expect nothing less than first class entertainment. She used to say that while other performers drew a beer and pretzel crowd, her audiences were all about champagne.
Every show included splashy production numbers, quiet moments with Mitzi singing solo with a piano and funny chat. From Rogers and Hammerstein to Sondheim, and Gershwin and Porter, there was nary a moment out of focus. As she herself used to say with wink, her show was "singin' and dancin,' and walkin' and talkin'" -- all to great effect.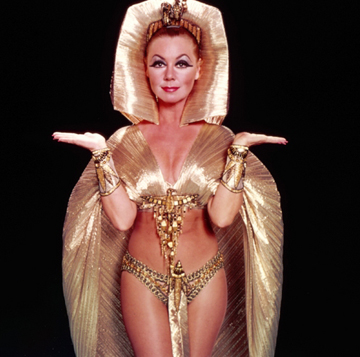 Always remaining on the cutting edge creatively, Mitzi's shows regularly included up to the minute topical references.
When a touring King Tut exhibition was all the country could talk about, an Egyptian production number was included in her show. When Walter Murphy sent disco fans into a frenzy with "A Fifth of Beethoven," Mitzi took it one step further with a glittering production number that filled the stage. When Citizen Band radios were the rage, that was dealt with in a very funny way. When Irving Berlin turned 100, a splashy medley became the center point of the show's second act. When Stevie Wonder was riding the charts with "Sir Duke," Mitzi and her dancing men did their own version. And when streaking was happening on college campuses everywhere, Mitzi found a way to acknowledge it (. . . rather, one of her dancers found a way to acknowledge it -- albeit with innocence and strobe lights).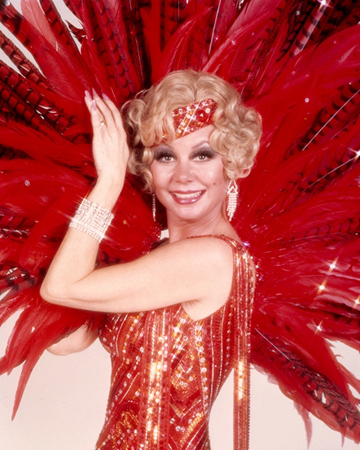 One year's show subtly costumed Act One all in black and white while Act Two was a blaze of Technicolor. Another had an extended salute to Disney, with Mitzi as everyone from Minnie Mouse to Mary Poppins. Yet another offered a glorious history of dance that ranged from Vern and Irene Castle to a high-kicking Charleston that stopped the show.
A blonde dynamo with endless energy and a sly sense of humor, she traveled with a full company of singers, dancers and key musicians. And start to finish, the entire show was costumed by Bob Mackie. It wasn't uncommon for Mitzi to go through 12 to 15 stunning outfits during the course of the evening. And all without losing a breath.
For promotional purposes, she had all new publicity photos taken every year, specifically depicting that year's show and costuming. (Believe me, no one does this. Many performers continue to use the same tired old head shot long after it bares any resemblance to the artist in question.) Just one more sign of a true pro.
She soon established a successful blueprint for her calendar year. During the winter, she and her creative team built a new production from the ground up. Working with some of the best directors and choreographers around (everyone from Tommy Walsh to Tony Charmoli and Baayork Lee), they'd mount a new show.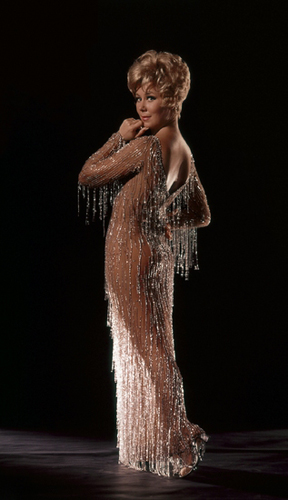 Come Spring, she was on television with a one hour special, whetting the appetites of the masses. Then she hit the road, playing off the excitement of what people had seen on TV to wow them in person with an effort that was over the top. She toured through the end of the year, took the holidays off, and then started the whole process all over again from scratch.
While those annual live concert shows are long gone, the TV specials are not -- although they haven't been seen in almost three decades.
Over the past year or so, Mitzi's been busy, remastering her Emmy Award-winning specials to create a DVD that celebrates the best of the best. It is this documentary which PBS will air in November and December. A longer-length DVD will subsequently be available for sale.
Far from retired, she was recently the subject of a special exhibit at the Museum of Radio and Television in Los Angeles, which screened several of the specials and featured an exhibit of many of her knock-out costumes through the years. She's remained involved in the Professional Society of Dancers (serving as President). On November 13, she'll appear at an L.A. reception held in her honor and hosted by the Academy of Television Arts and Sciences. And she's reportedly at work on her autobiography.
Word is that she will soon set out on tour again, this time with a fun and dishy one-women show offering reminiscences about her career and the many people she's worked with (Gene Kelly, Ethel Merman, Marilyn Monroe, Frank Sinatra, Bing Crosby, Donald O'Connor, Cole Porter, Rossano Brazzi and Yul Brenner, to name but a few). All of which will provide, as she says, a glimpse "behind the sequins."
In the meantime, keep an eye on PBS to catch a truly class act. From singin' and dancin' to walkin' and talkin,' she'll be dazzlin' all the way.
-- OnStage Boston
Production photos: Green Isle Inc.