A Review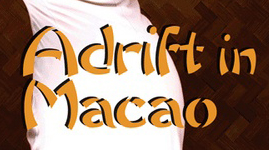 Homage A Noir
By R. J. Donovan
Lyric Stage is kicking off the New Year with a jovial little spoof called "Adrift in Macao." Book and lyrics are by Christopher Durang, music is by Peter Melnick, and Stephen Terrell directs. The show offers a musical parody of all those old black and white movies where the nightclubs were smoky, the men were shadowy and the girl singers were sultry.
Like all Durang pieces, the script is jammed with funny references and clever word play. As an example, the nightclub's Asian man-servant is named Tempura, because he's been "battered by life" (insert rim shot here).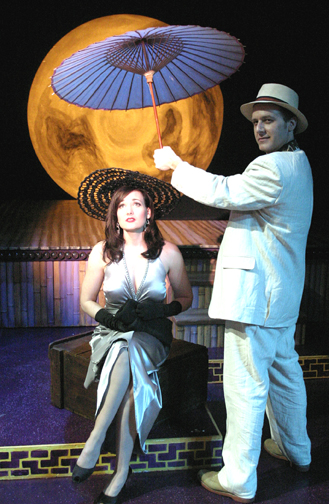 The storyline follows a hip-swinging girl singer who arrives in Macao fresh off the boat with nothing but her slinky dress in tow. She immediately gets a job in a shadowy nightclub (think Casablanca) run by a guy named Rick Shaw. But wait, there's already a girl singer on the bill. Unfortunately, she's a bit of a drug addict. Add a mysterious man on the lamb and you've got the framework for a 90 minute story that also finds room to work the Maltese Falcon into the mix.
As part of its charm, the plot continually comments on itself, adding further proof that it's all done with a wink and a nod. As one character says to another upon making an entrance, "I just heard you singing ..."
That said, "Macao" isn't necessarily as consistent as Durang's other efforts. ("Miss Witherspoon" has a dizzying share of tight, straight-to-the-heart-of-it shots.) And while his lyrics require careful attention from the audience to be fully appreciated, the musicians perched high at the back of the stage sometimes overpower the singers. This is especially true when Austin Ku (the ominous but very funny man-servant) and Ami Doherty (the slinky singer, above left) are working in their lower registers.
As the man on the lamb from a possible murder rap, Ariel Heller is in perfect sync with the noir style and tone; Kathy St. George is the loveable gal with the nasty habit; and playing a multitude of smaller roles -- including a long line of quick-change guests arriving down the gang plank in Macao -- are Kerri Jill Garbis and Neal Richard Lee.
Special note goes to Brendan McNab (above with Doherty) who plays nightclub owner Rick Shaw. McNab stepped into the show at the last minute when the original actor was injured. As one of Boston's most reliable and versatile performers, he has proven himself again and again in everything from "Kiss of The Spider Woman" and "Parade" to the recent "Mystery of Edwin Drood" (he finished his "Drood" gig at SpeakEasy Stage and jumped into the "Macao" cast only a week later).
In the end, "Adrift in Macao" caps the night with one of those bouncy, repetitive tunes that sticks in your head like gum on your shoe. So whether the evening's been a true Ten or not, you'll still walk out humming.
"Adrift in Macao" is at Lyric Stage, 140 Clarendon Street in Boston, through February 2. For information, call 617-585-5678.
-- OnStage Boston