A Review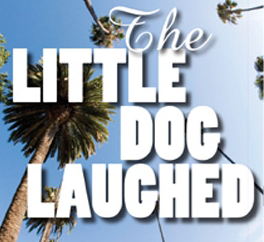 Happy In Hollywood
By R. J. Donovan
It's always a pleasure when a tight, smart comedy is presented by a keenly matched company of actors. Such is the case with Douglas Carter Beane's Tony nominated, "The Little Dog Laughed," getting its local premiere from SpeakEasy Stage Company.
The plot is as follows. Mitchell is an up and coming Hollywood star. He's got a nice career going, but he's not an A-lister just yet. His secret is that, when drunk, he's got a thing for male prostitutes. After an encounter with young Alex, he finds he's in love. And low and behold, the young rent boy (who has a girlfriend, by the way) slowly finds he's equally smitten. The fly in the ointment is that Mitchell's high powered agent is fighting tooth and nail to keep him securely in the closet because she's got a project that could make him a superstar -- but only if he appears to be straight.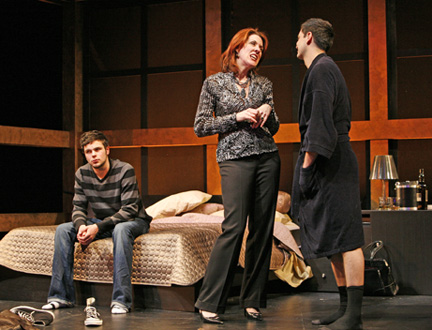 The project in question is the film version of a hit Broadway play, ironically having him play a gay character.
However, Hollywood rules dictate that a straight actor who plays gay can win an Oscar. A gay actor who plays gay is destined for the remainder bin.
But in order for Mitchell to get the role at all, the writer of the piece has to be manipulated with every ounce of gushing Hollywood grease the agent and actor can muster.
The result is an evening with four very different characters pushing and pulling each other as they try to find their way to a happy ending, either singly or as a group.
Beane's skills are apparent from the first moment. The writing is bright, the zingers are funny and the play constantly comments on itself in an amusing and intelligent way.
"Little Dog Laughed" is particularly enjoyable because of the cast. Four completely different types, delivering four unique and thoroughly entertaining performances. And they all get their share of big laughs.
Maureen Keiller (center, above) is solid as Diane, the steamroller of an agent. The lady wants what she wants when she wants it, and she has a way of always being right, no matter how little the others want to hear what she has to say. Although the ultimate phony when doing business, she turns out to be painfully honest when it counts. And despite her constant chatter, she knows when to shut up.
Flirting with stardom as he flirts with men, Mitchell is played by Robert Serrell (above, right). He's kind and vulnerable as the guy who dreams of being everyone else's dream. He wants to acknowledge his true feelings, but he pulls away when things get a little too real. He and Keiller share a wonderful, tongue-twisting scene sucking up to the unseen playwright. Beane cleverly positions the audience in the role of the writer as the actor and agent kill him with kindness.
As Alex, Jonathan Orsini (above, left) brings a sweetness to the role of the call boy -- but not in the cliche prostitute-with-a-heart-of-gold way. Rather, his business is very matter of fact. He sleeps with older gentlemen for money, he's got a girlfriend, and he's not terribly involved with either. The boyish Orsini does a nice job of setting up Alex as the guy who grins as if he doesn't have a clue, only to show there's much more beneath the surface in the end. He's also got an understsated way of lobbing his zingers out of the park.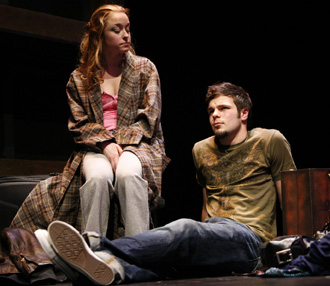 Angie Jepson (at left with Orsini) is Ellen, Alex's all-about-me girlfriend -- although the tag of girlfriend may be a little misplaced since she's got her own sugar daddy on the side. Jepson is always interesting as the spoiled, self-involved gimme-girl who thinks bleeding others dry is standard operating procedure. Calculating in her own detached way, she says she wouldn't be able to identify her emotions in a police line up.
Paul Melone directs the evening with a careful hand, keeping the action moving and creating several artful visuals with the actors scattered throughout the playing space. This the first time SpeakEasy has moved from its usual home in the Roberts Studio Theatre to the Calderwood's larger Wembly stage and it's a happy relocation that bodes well for the future. Designers Eric Levenson (set) and Jeff Adelberg (lighting) have delivered beautifully, with Levenson's subtle addition of a red carpet a nice touch.
Beane's jumping off point for all of this was his own disappointing experience in Hollywood trying to get his play, "As Bees in Honey Drown," made into a film. The play's main character was a gay novelist. And while the execs purchased the property knowing what they were buying, they soon clashed with Beane over the character's sexuality, wanting to make him "shy around girls" rather than gay. Beane had it with the foolishness, fled L.A. and the film was not made.
However, in a case of bad news-good news, his theater career took off. Among his many projects, he wrote the book for "Xanadu," the surprise hit of last year on Broadway, and he's got "Dancing In The Dark," a new stage version of the MGM musical "The Band Wagon," opening in San Diego next month with an eye on Broadway.
So while the little dog may have laughed to see such sport (and the Hollywood suits never got their way), Mr. Beane has laughed all the way to the bank.
"The Little Dog Laughed" is at The Calderwood Pavilion at the Boston Center for the Arts, 527 Tremont Street in Boston, through February 16. For information, call 617-933-8600.
Production Photo: Mike Lovett
-- OnStage Boston