"The Envelope Please"
A Cabaret of Movie Music At Scullers
With five sold out appearances to their credit, vocalists Bobbi Carrey and Will McMillan (below) return to Scullers on February 20 to present "The Envelope Please," featuring an evening of Academy Award winners and nominees for Best Song. Showtime is 8 p.m., Doug Hammer will be on the piano and dinner is available prior to the performance.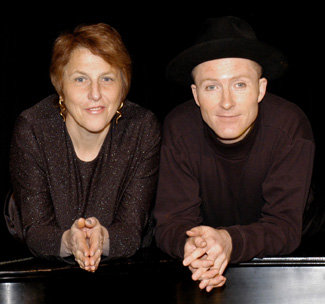 Not only are the Academy Awards a part of America's history, they're a mirror of the times. As such, in 1934 a category was added to the festivities -- Best Song From a Motion Picture. And for the next seven decades, Oscar winners and nominees for Best Song have reflected the pulse of America.
The list of Best Song winners and nominees includes work by most of the leading songwriters of the 20th century including Irving Berlin, Sammy Cahn, Cole Porter, Johnny Mercer, Henry Mancini, Harold Arlen, Hoagy Carmichael and Randy Newman.
"This is one of our favorite shows," said McMillan. "Many of these songs are so well-crafted and so much a part of our musical heritage that they almost sing themselves."
The roster of Winners includes timeless love songs such as "Cheek to Cheek," "The Days of Wine and Roses" and "True Love," along with others that reflect a universal quest for happiness and contentment -- "Accentuate the Positive," and "You've Got A Friend In Me." Capturing the yearning for a simpler, more innocent time will be --"In the Cool, Cool, Cool, of the Evening" and "When You Wish Upon A Star."
But as Carrey points out, the biggest composers didn't always walk away with the Oscar. "Berlin was nominated 7 times, but won only once for his 1942 hit 'White Christmas;' Newman had the dubious distinction of receiving the most Oscar nominations (fifteen) without a single win. His losing streak was broken when he received the Oscar for Best Song in 2001 for the 'Monsters Inc.' song 'If I Didn't Have You,' beating the likes of Enya and Paul McCartney."
In addition to performing throughout New England, Carrey and McMillan have their own CD out ("If I Loved You"), have been featured live on Ron Della Chiesa's "The Jazz Songbook" on WGBH radio and were nominated for a 2005 IRNE for Best Cabaret Group Performance from the Independent Reviewers of New England.
For information and tickets, call 617-562-4111 or visit www.ticketweb.com
-- OnStage Boston