16th Annual "Out On The Edge Festival of Queer Theatre"
October 20 – November 10
At The Calderwood Pavilion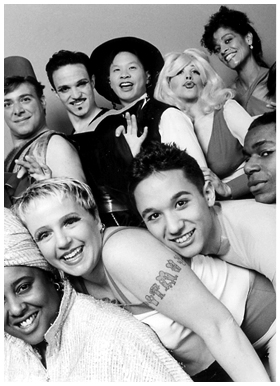 Since 1992, The Theater Offensive's Out On The Edge Festival of Queer Theatre has developed and presented the talents of queer thinkers and artists from around the world.
Abe Rybeck, Artistic Director, and Eve Alpern, Producing Director have announced the 2007 Festival will involve a month-long schedule of performances, opening October 20 with their new work development program Plays At Work, a week-long playlab that develops and premieres theatrical work by new regional artists in staged reading and workshop formats. Plays At Work features free public education workshops with featured artists, community dialogue about the evolving shows, and interaction between artists and patrons.
This year's staged readings will include "Hello Goodbye Peace" by Abe Rybeck (Saturday, October 20, at 4 p.m. and Sunday, October 21, at 3 p.m.) and "Blue Fire on the Water" by Renita Martin (Saturday, October 20, at 8 p.m. and Sunday, October 21, at 12p.m.).
Mainstage performances will feature the New England premiere of The Five Lesbian Brother's Off-Broadway hit play "Oedipus At Palm Springs" (October 25 – 28); the Boston premiere of multi-media performance artist John Kelly's homage to Joni Mitchell, "Paved Paradise"(November 1 - 4); the World Premiere of a new theatrical piece developed by the Boston Drag King Troupe All The Kings Men (November 2 and 3); and the return of David Parker and The Bang Group in "Nut/Cracked" (November 7 – 10).
All performances will held in the Calderwood Pavilion at the Boston Center for the Arts, 527 Tremont Street in Boston's South End.
Performance Schedule Details:
New England Premiere
October 25 - 28, 2007
Off-Broadway Smash Hit!
"Oedipus at Palm Springs" by The Five Lesbian Brothers
Starring original cast member Maureen Angelos as Prin, with Karen "Mal" Malme as Fran, Linda Monchik as Joni, Brigid O'Connor as Con and Vanessa Soto as Teri.
A sexy new take on a crusty old play. Lesbian couples at a Palm Springs resort test the boundaries with drunken encounters! But in this classic story retold, will one of them actually sleep with…gasp!…her own mother?! "Oedipus at Palm Springs" examines the messy realities of long term relationships, commitment, marriage, passion and motherhood. The Five Lesbian Brothers are the recipients of the Obie, Bessie and New York Press awards.
Boston Premiere
November 1- 4, 2007
John Kelly in
"Paved Paradise: The Songs of Joni Mitchell"
The New York Times said, "There's drag and then there's transformation through spiritual osmosis, and that's what John Kelly accomplishes with this tribute. . . Magnificent." Too exquisite to be camp, and too improbable to be anything else, John Kelly's "Paved Paradise" is an homage, both visually and musically, to legendary 60's singer-songwriter Joni Mitchell. A self-professed chameleon author, choreographer, director and performer, the Elliot Norton Award winning Kelly has received two Bessies, two Obies, and a Guggenheim Fellowship. In a career that spans decades, he has performed throughout the world including BAM, Lincoln Center, Carnegie Hall and on Broadway ("The Dead").
World Premiere
November 2 and 3, 2007
"Out of the Box: Twisted Tales"by All The Kings Men
Boston Phoenix's "Best Kept Secret" raises the bar for drag-king entertainment in this steamy new club act where provocative satire collides with sexy moves. Experience these gender-bending, hot, flirtatious characters like never before!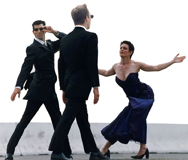 Back by Popular Demand!
November 7-11, 2007
"Nut/Cracked"
Starring David Parker and The Bang Group
Definitely not your grandmother's "Nutcracker!" The Bang Group has takenevery little girl's favorite Christmas show and torn it limb from limb, with hilarious new twists for 2007! Mixing Tchaikovsky's original score with music by Duke Ellington, Glenn Miller and others, the company turns the sugarcoated ballet into a beautifully executed piece of irreverent dance theatre. Expect tap dancing, singing and some unusual pointe shoe activity. Nothing is sacred as "Nut/Cracked" twists and melds various dance traditions into an ode to American eclecticism. This is a freewheeling, new vaudevillian "Nutcracker" that mixes American swing, jazz and vernacular arrangements of Tchaikovsky's score with the traditional orchestral suite.
Founded in 1989 by Artistic Director Abe Rybeck, The Theater Offensive has driven its ambitious programming to the cutting edge of queer culture and politics. Grounded in the commitment to build an activist-based artistic forum, the groundbreaking programming has become a vital arena for the unique voice of queer cultures, and has led to lasting coalitions between the varied communities within the queer umbrella. The group accomplishes their work through meaningful ongoing relationships with a range of arts and organizing initiatives locally and throughout the country, and by using any and all cultural tools to make a difference in the minds, hearts, and libidos of the queer and straight communities.
Nationally recognized community programs include A Street Theater NamedDesire, True Colors Out Youth Theater, and the Out on The Edge Festival of Queer Theater.
For tickets and information, call the Boston Theatre Scene box office at 617-933-8600 or visit www.bostontheatrescene.com.
For more information on The Theater Offensive visit www.thetheateroffensive.org.
-- OnStage Boston