---

"En Guarde!
"Musketeers" Bring Gallantry & Heroism To North Shore
The new musical adaptation of Alexadre Dumas' classic novel "The Three Musketeers" will make its New England premiere at North Shore Music Theatre (NSMT) from August 21 - September 9. The score is by "Mary Poppins" composer, Olivier Award winner George Stiles.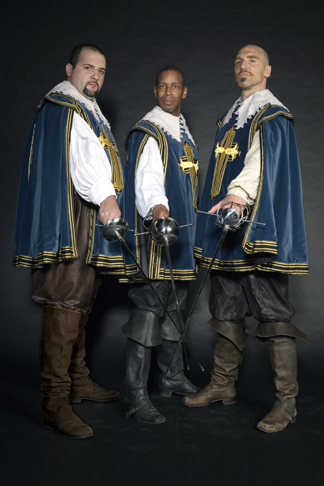 From fast and furious duels to the dangerous streets of Paris by night, "The Three Musketeers" celebrates honor, romance, friendship and a lust for life. The show is a co-production with Chicago Shakespeare Theater.

The story focuses on the handsome young D'Artagnan, a country boy determined to be a hero, and his adventures in Paris with Athos, Porthos and Aramis, the hardiest, most reckless of the King's Musketeers. Quickly embroiled in romantic affairs, intrigue, devilish plot twists and ferocious duels, D'Artagnan learns that being a hero is more than he bargained for.
Artistic Director and Executive Producer Jon Kimbell commented, "This is North Shore Music Theatre's fourth musical with composer George Stiles, who wrote the music for our productions of 'Tom Jones,' 'HONK! ' and 'Just So.' Since Chicago's production of 'The Three Musketeers' in December, we've worked closely with George and the creative team to revise and refocus the script and score to further clarify D'Artagnan's journey. With the majority of the new creative team from across the pond, including George, lyricist Paul Leigh, writer Paul Raby, director Francis Matthews, Tony nominated lighting director Hugh Vanstone and Tony Award-winning set and costume designer Lez Brotherston, our production will have a decidedly British bent. It is a thrill to partner with such a vastly talented team of creative artists and actors on this exciting journey."

The cast of "The Three Musketeers" features Broadway veterans Kevyn Morrow as Aramis, John Schiappa as Athos, Jimmy Smagula as Porthos, Aaron Tveit as D'Artagnan, and Kate Baldwin as Milady.

The company also includes Chad Ackerman, Mark Aldrich, Adam Alexander, Becky Barta, Allison Blackwell, Mick Bleyer, Steven Booth, Heather Koren, Nick Dalton, Holly Davis, Jeff Edgerton, Jenny Fellner, Constantine Germanacos, Emily Harvey, Kingsley Leggs, David Mann, Jonathan Sanford, Matt Stokes and Anne Tolpegin.
Free Audience Enrichment events:
Meet the Theatre
A post show audience discussion with the artists on August 28 and 29 after the 7:30 p.m. performance and September 8 after the 2 p.m. performance
Spotlight on History
A free pre-show discussion focusing on historical issues related to the performance on September 2
Out at the North Shore
An evening for the Gay and Lesbian Community with a post show reception on September 6.
For tickets and information, call 978-232-7200 or visit www.nsmt.org,
-- OnStage Boston