One Day Sale
At The Huntington
August 23
The Huntington Theatre Company will offer $25 tickets to the first three shows of its 2007-2008 Season during a one-day sale this Thursday, August 23.
Purchases may be made online, by phone, or in person at the company's two box office locations.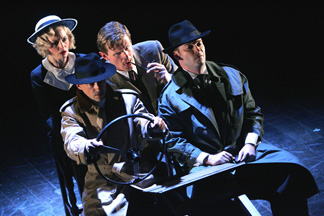 Discount tickets are available for preview performances of the pre-Broadway American premiere of the hit London comedy "Alfred Hitchcock's The 39 Steps" (at left), the world premiere of local Irish playwright Ronan Noone's "Brendan," and the revival of David Rabe's anti-war classic "Streamers."

The $25 tickets (as well as regular-priced tickets for all Huntington shows) go on sale:
• In person, 9 a.m. to 6 p.m. at: the Huntington's Boston University Theatre Box Office, 264 Huntington Avenue; and the Calderwood Pavilion at the BCA Box Office from Noon to 6 p.m.
• Online from Noon to Midnight at www.huntingtontheatre.org.
• By phone from Noon to 6 p.m. at 617-266-0800.

For more information, visit www.huntingtontheatre.org.
Photo Credit: Original London cast of "The 39 Steps" by Tristram Kenton
-- OnStage Boston