A Review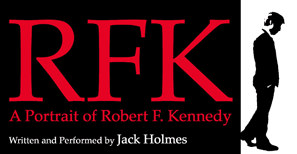 Brave Heart
By R. J. Donovan
It's always interesting to see a playwright present his own work on stage. Few actors will be fully able to grasp the evolution and intent of a play as its author.
At the Stuart Street Playhouse, Jack Holmes is author and star of the one-man play "RFK: A Portrait of Robert F. Kennedy." Arranged in two acts that run from 1964 (when he was turned down by LBJ as Vice Presidential running mate) to his untimely end in 1968, the evening touches on Kennedy's time as Attorney General, running for the Senate, wrestling with J. Edgar Hoover, prosecuting organized crime, and dealing with the frustrations and horror of The Bay of Pigs and Vietnam (which sadly echoes our current military situation).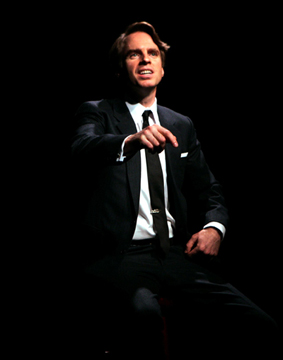 More than just a history lesson, the play also presents flashes of his self-effacing private life -- corralling his children, doting on Ethel, enduring the needling of younger brother Teddy, helping JFK, consoling Jackie, and dealing with Mother Rose.
The result is a full evening of thoughts and ideas. And although the second act could be tightened by a good 15 minutes, the play holds your attention as it reveals the complexities of a passionate politician who was an intensely shy individual.
Even those who recall the elements of Kennedy's life will no doubt be impressed by the research Holmes has done to flesh out the story. Nice touches include the ever-present PT-109 tie clip, the Kennedy habit of writing letters to family members and the horrific moment of choices he faced concerning his brother's funeral.
Holmes brings to the stage a passing resemblance to Kennedy, which is good enough to get things started. His profile is right as is the shock of unruly hair. He rushes his lines a little here and there, the impersonation occasionally blurs, and director Seth Greenleaf sometimes has him pacing the stage without a solid reason. However, as the evening goes on, you do begin to see the famous face superimposed over his own.
Holmes' best moments are those that find him standing still in the spotlight, either recording a television ad, addressing a crowd of supporters or caught in the middle of an interview.
And talented guy that he is, Holmes also composed the music that frames the acts.
Playing in the midst of Kennedy Country, the show would appear to have a nice home in Boston. And the Playhouse offers an intimacy that enhances the experience.
"RFK: A Portrait of Robert F. Kennedy" is at The Stuart Street Playhouse, 200 Stuart Street at the Radisson Hotel in Boston. For information, call 880-447-7400.
-- OnStage Boston