A Review

Becoming A Legend
By R. J. Donovan
For "And Now Ladies and Gentlemen, Miss Judy Garland," producer, director, adapter Tony McLean has fashioned an evening showing the iconic Miss Garland on and off stage. To portray the star, he's chosen the talented Kathy St. George.
While Judy has been the object of countless impersonators and drag shows, here the evening is anchored in building a character from Garland's own words.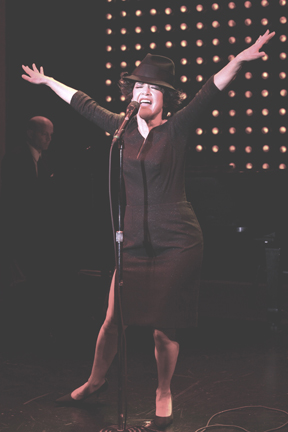 In 1964, the legendary entertainer sat down in London to tape record her thoughts and memories for an autobiography that sadly, never saw publication. She wanted to make her own case for the events in her life. She wanted the public to know, "being Judy Garland is a chore."
McLean has taken those taped thoughts (known as Judy Speaks) and crafted them into a 30 minute scene reenacting Judy's attempt at recollecting her life.
The evening begins with Judy's own voice playing through the sound system in the dark. When the stage lights come up, St. George is dressed in white silk pajamas, and she's pacing the stage, wrangling the microphone cord of the tape recorder in much the same manner Garland wrestled the microphone cord on stage. Stretching it, tangling it, and slinging it over her shoulder.
She rambles, she slurs, she rants and she admits to being a good person and a good mother. She condemns those who have wronged her from managers to ex-husbands and columnists. Still she, and the show, went on. As she said, "When my number is up, I want a new one."
Basing the first section of the show on actual recordings is a good news-bad news deal. Remaining faithful to Garland's own words grounds the show in fact. However, as Garland's thoughts weren't particularly profound, it sacrifices the opportunity to dramatize the monologue by fleshing out her thoughts and opinions.
Then we slip from Private Judy to Public Judy. The stage darkens, an overture begins and three minutes later, Judy returns in concert. St. George is now decked out in a series of outfits (designed by Charles Schoonmaker) of the style Judy wore on stage and for her ill-fated CBS television series.
The mannerisms are authentic, the gestures are real and the look is sharp. St. George also does a credible great job channeling Judy's humor.
The concert section, with the nimble Tim Evans at the piano, takes a memory-lane stroll through some of Garland's best loved numbers from "You made Me Love You" and "The Trolley Song" to "For me And My Gal," "This Can't Be Love," "Chicago," "A Couple of Swells," "Get Happy" (above) and a moving "The Man That Got Away." She closes with the obligatory "Over The Rainbow," sitting on the edge of the stage as Garland always did.
The applause that follows is also in keeping with a Garland appearance. The crowd is on its feet, the star bows graciously and the experience is over. She had a serious romance with her audiences and she lived for and in performance.
Appropriately, "Ladies And Gentlemen" officially opened on June 10 -- Judy Garland's own birthday.
"And Now Ladies And Gentlemen: Miss Judy Garland" at Lyric Stage, 140 Clarendon Street in Boston. For information, call 617-585-5678.
Production Photo: Paul Lyden
-- OnStage Boston