Stoneham Theatre Presents
"George M. Cohan Tonight!"
Stoneham Theatre will present the Drama-Desk Award nominated "George M. Cohan Tonight!," a musical profiling the extraordinary life and career of the legendary showman, from June 14 - July 1. Stoneham Theatre is located at 395 Main Street in Stoneham.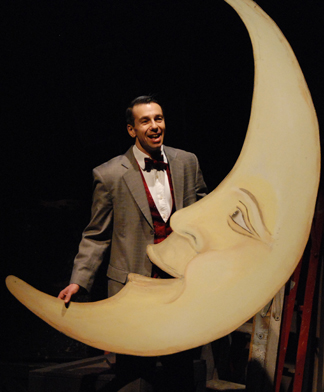 "George M. Cohan Tonight!," featuring Jon Peterson (left), is written, arranged and directed by Chip Deffaa, with music and lyrics by George M. Cohan. The one-man show packs nearly 40 songs into 90 fast-moving minutes, to tell the story of the quintessential song-and-dance man.
The show features such rousing Cohan classics as "You're a Grand Old Flag," "Give My Regards to Broadway" and "I'm a Yankee Doodle Dandy," while also sharing a wealth of wonderful musical rediscoveries.
Born in 1878, George M. Cohan ranks as one of the single most talented figures in American theatrical history. He wrote, directed, and produced scores of Broadway shows, penned hundreds of songs and became the most popular musical comedy star of his era.
Critics dubbed him "The First Actor" and "The Man Who Owns Broadway." Starting out as a poor Irish-American kid from Providence, RI, Cohan never spent more than a few weeks in school. Nevertheless, he rewrote the American songbook.
Originally presented Off-Broadway at The Irish Repertory Theatre in 2006, "George M. Cohan Tonight!" will open this September in Seoul, Korea. The show has been "triple cast" there -- meaning that the producers consider it such a demanding role that they have hired three actors, each to alternate in playing Cohan. Here in the United States, the indefatigable Jon Peterson has been playing the role without an understudy -- and has never missed a performance.
Peterson, who won Back Stage's "Bistro Award" for his dynamic portrayal of Cohan, has appeared in many musicals in his native London, including "42nd Street," "A Chorus Line," "The Sound of Music," " Cats," "Dames At Sea," "On Your Toes," "She Loves Me" and Noel Coward's "Cavalcade."
He also starred as the emcee in Sam Mendes' and Rob Marshall's acclaimed production of "Cabaret" for two years in the U.S. National Tour before covering the role on Broadway. Trained at London's Royal Ballet School, he has also choreographed "George M. Cohan Tonight!"
Chip Deffaa has written eight books dealing with music and popular culture, including Blue Rhythms and Voices of the Jazz Age. For 18 years, he covered entertainment for The New York Post, writing about jazz, cabaret and theater. An authority on Cohan's work, he has created and staged no less than five different shows about George M. Cohan, each with a different size cast.
For tickets and information call 781-279-2200 or visit www.stonehamtheatre.org.
Special Performances:

PAY WHAT YOU WANT!
The 4 p.m. performance on Saturday, June 16, is "pay what you want." Tickets for this show will be sold an hour prior to the performance -- cash only and correct change must be given. This offer may not be combined with any other offers. Maximum number of tickets per order is 6. Based on availability.

ASL Interpreted Performance
Saturday, June 16, 2007, 4 p.m.
Email admin@stonehamtheatre.org for further information.
-- OnStage Boston