Brooks Ashmanskas Took His Time Getting To Boston
. . . And The Huntington
By R. J. Donovan
Some of the biggest belly laughs in "Present Laughter" at The Huntington Theatre are being generated by the inventive physical comedy of Brooks Ashmanskas.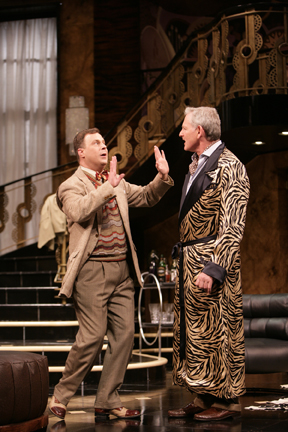 In the supporting role of Roland Maule, playwright wannabe and wildly obsessive fan stalking egomaniacal leading man played by Victor Garber, Ashmanskas (left with Garber) hits the ground running and almost immediately wins overwhelming audience favor.
He modestly says that its a great part, fun to do and that "it's all on the page," however audiences are responding to the energy, personality and comedic insanity of his carefully choreographed performance.

The process of creating a role is a collaboration between script, actor, director and ultimate the audience. Ashmanskas says that much of his physical stage business was refined once the show was up on its feet and in front of an audience. Only then does the cast get a real sense of the show's pacing.
Those first few performances are valuable, he says, because you learn when to "turn it up or turn it down." And while the audience may be focusing their attention on the insanity of Roland Maule, Ashmanskas says that everything his character is doing is ultimately "focused on Garry" (the role played by Garber).
Most of the theater-goers cheering him on may not know that Brooks is up for a "Best Featured Actor In A Musical" Tony Award next Sunday night, June 10, for his work on Broadway in "Martin Short: Fame Becomes Me."
So on Sunday, he'll appear in the 2 p.m. matinee at the Huntington, but he'll skip the curtain call. He's last seen on stage about 10 minutes before the end of the show, so once he makes his final exit, he'll jump in a car and head off to New York. The Tony Awards begin LIVE at 8 p.m.
There's a special camaraderie in his category because he's known two of his fellow nominees (Christian Borle from "Legally Blonde" and David Pittu from LoveMusik") "my entire time in New York." Rather than increasing competition, he says they'll genuinely be cheering each other on.
Ironically, "Fame Becomes Me" was the reason he was unable to star as Pseudolus in "A Funny Thing Happened On The Way To The Forum" for the Huntington in 2006. He was booked to do the show, and then got offered a role with Martin Short.
Subsequently, there were many discussions of touring dates and schedule changes. He remembers "Every week there was another thing."
Both he and the Huntington tried to make their schedules work, but in the end, he says Artistic Director Nicholas Martin happily just told him "Go do it."
As Martin (Nicholas, that is) didn't want to proceed without him, "Funny Thing" was replaced on the Huntington's schedule with "Love's Labour's Lost."
Adding to the story, once "Fame Becomes Me" was announced, the show was supposed to play its pre-Broadway run in Boston at The Colonial Theatre. But that, too, didn't happen.
The current success of "Present Laughter" combined with the Tony nod has meant a happy ending for all. As well as the chance for Boston audiences to see Brooks in action on stage.
While he's spent most of his career on Broadway doing musicals ("The Producers," "Gypsy," How To Succeed In Business," "Dream" and "Little Me" among others) he admits there's nothing harder because it "entails every fiber of your being," acting, singing, dancing and gearing up for the next big number . . . or seven!"
In contrast, he says "it's refreshing" to be doing a straight comedy for a change, especially one as well written as "Present Laughter." Plus, he's known Victor Garber for a long time and says he's fortunate to be working with such "a great group of people -- very talented."
It's also been a perk to be in Boston during baseball season because he's a diehard Red Sox fan, a loyalty that can be attributed to his Dad, a South Boston native Prior to the opening of "Present Laughter" he was able to snag a ticket to one of the Red Sox-Yankees games.
Baseball to theatre, it's all performance in one way or another. But the bigger questions is, when we see him on camera next Sunday night at the Tonys, will he be in his seat or on stage?
Either way, he says, "I'll be clapping."
"Present Laughter " is at The Huntington Theatre, 264 Huntington Avenue in Boston, through June 17. For information, call 617-266-0800.
Production Photos: T. Charles Erickson
-- OnStage Boston