There's little doubt that Robert F. Kennedy changed the country in a multitude of ways. Having been described as everything from "ruthless" to "compassionate," and his story is coming to the stage in "RFK," making its Boston premiere at the Stuart Street Playhouse on Thursday, June 7, and running for a limited engagement.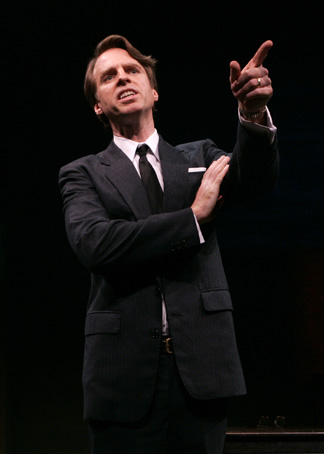 Written and performed by Jack Holmes (left), "RFK" follows the footsteps and personal transformation of one of America's most dynamic and tragic political figures -- a man whose name and memory evokes as much passion today as it did in 1968. While his historic rise to power sparked a nation's hope, his tragic death left a world to forever wonder what might have been.
Nominated in 2006 for the Off Broadway Drama League and Outer Critics Circle awards, "RFK" captured the attention of New York audiences last season. Variety exclaimed, "'RFK' hurtles through the theatre with surprising force! Holmes gives star-making turns as both writer and performer. Sophisticated, spellbinding work!"
Performed on an elegantly simple set, "RFK" tells the story of Robert F. Kennedy's last four years. It begins in 1964 and takes the audience through to the night of the California primaries in June of 1968. It deals with his relationships with everyone from Jackie Kennedy to J. Edgar Hoover and gives audiences a behind the scenes look at the often painful transitions of his very public life.
By late summer, 1964, Attorney General Robert F. Kennedy was a deeply wounded man. Still in shock and consumed with grief over the assassination of his older brother President John F. Kennedy, he found himself at a personal and political crossroads. The presidential election was approaching and Lyndon Johnson finally called RFK to the White House to end months of speculation over whether or not he would be Johnson's vice-presidential running mate. The result of that meeting and the subsequent direction of Robert Kennedy's life are the focus of this play, following the man as he grows from husband, father, and grieving brother to NY Senator, outspoken war critic, and ultimately the 1968 Democratic Presidential candidate.
Produced by the team of Kathi and Alan Glist and Kenneth and Sandra Greenblatt, the same producers that brought "Menopause the Musical" and "Respect" to Boston, "RFK" will be directed by Seth Greenleaf.
For tickets and information, stop by the box office at 200 Stuart Street in Boston (at the Radisson Hotel), call 800-447-7400 or visit www.telecharge.com.
-- OnStage Boston
Photo Credit: Richard Termne
05/09/07