A Review

Lies & Smiles
By R. J. Donovan
From our own former Governor addressing questions of religion in his Presidential campaign to the four-hour documentary being aired this month on PBS, Mormons are in the news . Boston Theatre Works scheduled its current production of "Confessions Of A Mormon Boy" quite a while ago, but it still lends credence to the fact that there's interest in everything Mormon at the moment.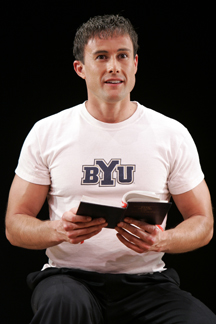 Directed by Jack Hofsiss, "Confessions of a Mormon Boy" is the true and very personal story of Steven Fales (left), a gay Mormon (sixth generation) on a journey to understanding and acceptance. The advantage for Boston audiences is that Fales not only wrote the one-man piece, but stars in it as well.
From his boyhood, he knew he was different than all the other little Mormons. Yet he tried his best to fit in and remain faithful to the teachings and dogma of his family's religion. As required, he went on missions. And he smiled. Endlessly. However, the frozen smile was in sharp contrast to the genuine happiness that should normally accompany it.
Blessed with musical talent, he wanted to be an entertainer. From his student days in Boston and Connecticut right through to Brigham Young University, he saw himself as the next Donny Osmond.
Career aside, his religion dictated he would not get into heaven unless he was married. So he checked that off his "to do" list with a wife and children. Although determined to live the straight life, he also had a sexual attraction to men. Coincidentally (or maybe, not so), his wife's father had also been a gay Mormon.
When the dutiful Mormon boy confessed his feelings to his bishop, he was thrown from his church. The reason for his excommunication? Homosexuality -- the existence of which the Mormon church does not acknowledge. So imagine his further confusion at being tossed out of the church and ripped from his family (for all eternity, no less) for something that didn't even exist.
Divorced from his wife and estranged from his family and his former life, he headed for New York to pursue a career on Broadway. To numb the pain, drugs followed, as did his work as a male prostitute -- the only way he saw of earning a living and paying for the support of his children back in Utah.
While Fales' saga is heart wrenching, it is not without its humor. And the happy ending is that he now has a decent relationship with his wife and children. And a better relationship with himself.
The highly-personal 90-minute evening is a therapy session of sorts. However, it never descends into a hatchet job on the Mormon Church.
The fact that Fales is telling his own story is very compelling. At the same time, he's been performing the show since 2001, which may explain why it often seems overly choreographed and rehearsed, right down to the affected winks and vocal inflections. The nightly journey may have been conveyed with more raw intensity when the events were fresher in his life.
That said, the emotion of it all does comes together by the final fade out. And you have to admire the guy for his honesty in sharing his own book of revelations.
"Confessions of a Mormon Boy" is at The Boston Center for the Arts, 527 Tremont Street in Boston, through May19. For information, call 617-933-8600.
-- OnStage Boston