A Review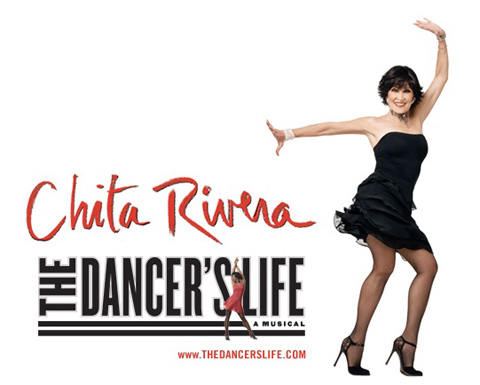 Dancing Through Life
By R. J. Donovan
Queen Elizabeth may be visiting Virginia this week, but Boston's got royalty of its own at the moment -- Broadway royalty, that is -- in the shapely form of Chita Rivera.
Rivera is at The Colonial Theatre for an all-too-brief, one-week presentation of her autobiographical show, "The Dancer's Life." And what a life it's been. From "West Side Story" to "Bye Bye Birdie," "Sweet Charity," Can Can," Chicago," "The Rink," "Jerry's Boys, "Kiss of the Spider Woman" and more, she's the stuff of which legends are made.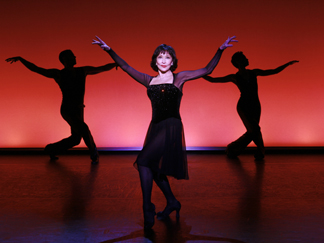 With Chita backed by a company of eight and her stories shaped and sorted by legendary writer Terrence McNally, the evening is sharp and passionate and thoughtfully arranged.
Directed and choreographed by Graciela Danielle (who was Dance Captain in the original production of "Chicago"), the show was created by Mark Hummel.
Too many performers today erupt out of nowhere, become supernovas before they've earned it, and subsequently crash and burn (and head off to rehab) because they've got little foundation in their craft.
Enter Ms. Rivera. Trained, disciplined and with a talent that's been developed for longevity. At 74, the lady looks great, sounds great, and still knows how to work it. The kicks may not be ceiling-scrapers anymore, but she knows how to deliver a performance that stays with you long after the curtain falls.
Performed in a jewel box of a set designed by Loy Arcenas, the evening begins with a lone saxophonist in the shadows playing "Perfidia." Chita appears in silhouette, gets a huge welcome from the audience and we're soon in 2002, in Washington D.C. as Chita's about to be presented with The Kennedy Center Award -- the event which serves as bookends for the production.
As Chita reflects on how she arrived at that momentous occasion, we drift back in time to her childhood years, through ballet training, her first musical, life as a Broadway "gypsy," the hits, the flops, the friends, personal truths and the evolution of an entertainer who, in the end, does not see herself as a star, but as a dancer.
And while the lady is truly an icon of musical theatre, she is warm and funny, approachable and self-deprecating. Here's someone who could rightfully pull rank and play diva, yet she comes off like a longtime pal who's leaning in for a chat over coffee. The high points are all there, but so are the bumps and bruises that have contributed to her becoming the talented, yet grounded woman you see before you.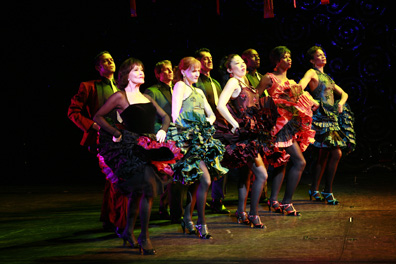 The first act covers a lot of ground, with highlights including: a funny memory of her learning "West Side Story's" "A Boy Like That" from Leonard Bernstein himself; a great "Dance At The Gym" (left) from the same show; the treat of seeing "Camille, Colette, Fifi " from the ill-fated "Seventh Heaven;" and memories of her turns in "Shoestring Review," "Guys & Dolls" and "Call Me Madam."
She also remembers the pals she's known and worked with, from Elaine Stritch and Sammy Davis, Jr. to Bea Arthur, Dick Van Dyke, Antonio Banderas and Liza with a Z. There's also a lovely moment remembering co-star and longtime friend Gwen Verdon.
Act Two includes a tip of the hat to the loves of her life (all set against the sultry language of the tango), and a stunning look at the choreographers she's worked with, from Jack Cole to Jerome Robbins, Peter Gennaro and Bob Fosse. The trademark style of each is demonstrated by Chita and Company, with the sequence serving as a knockout master class of sorts.
The final section of the show takes a look at some of the characters she's played, arranged around a special number, "A Woman the World Has Never Seen," written for her by Stephen Flaherty and Lynn Ahrens, the multi-talented composers of "Ragtime,""Seussical" and others. Touching on "Chicago," "The Rink" and "Spider Woman," the section is also a loving tribute to Kander & Ebb.
She makes a wonderful point when she says live Broadway shows are exceptional things because, unlike film, they're different every night based on the audience that's in the house. In the end, every show -- every performance -- exists only in the memory of the people who were there. What a special experience to have.
Show Woman that she is, she saves the best for last with a full-out version of her signature piece, "All That Jazz," the number she introduced in "Chicago" in 1975.
The most telling lyric of the night, from that final song, may have been ". . . but oh, I love my life!"
No bragging. No ego. Just expressing the genuine emotion that she truly loves what she does.
Judging by the deafening applause that filled the Colonial, the audience got it. And they were delighted to have shared her journey.
"Chita Rivera: The Dancer's Life" is at The Colonial Theatre, 106 Boylston Street, through May 6. For information, call 617-931-2787.
Production Photos: Paul Kolnik
-- OnStage Boston