When The Cape Cod Playhouse unveils its season schedule, can summer be far behind? Ranking as America's longest running professional summer theater, The Playhouse will celebrate its 81st Anniversary Season with six main-stage productions playing June 18 through September 8. The Cape Playhouse is located at 820 Main Street, Route 6A, in Dennis, Massachusetts.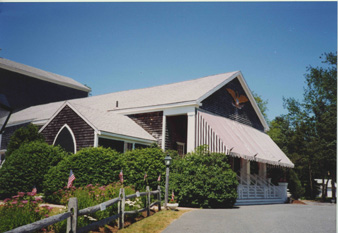 The line-up includes the following:
"2 Pianos 4 Hands" follows the fifteen-year path of two very talented pianists, Ted and Richard, who ardently work towards their dream of concert success amidst the pressures of parents, teachers, hours of practice, nerves, competition and the possibility of greatness. As the boys mature, they realize the difference between being very good and being great.
With music ranging from classical to pop, Bach to Billy Joel, "2 Pianos 4 Hands" captures the humor of learning to play the piano and the humbleness of learning how to let go of a dream. (June 18 - 30)
Direct from its world premiere at Manhattan Theater Club, Paul Rudnick's "Regrets Only" follows on July 2. "Regrets Only" is described as "a delicious boulevard comedy with a contemporary twist." Taking place in a stylish Park Avenue Penthouse, a powerhouse attorney, his socialite wife and their closest friend, a world famous fashion designer, lock horns and laugh over romance, marriage and friendship. James Brennan will direct the cast featuring Tony nominee Dee Hoty ("Footloose"), Theatre World Award-winner Joel Higgins ("Shenandoah") and Tony nominee Harry Groener ("Crazy For You"). (July 2 - 14)

The season continues with the Tony Award-winning musical, "Thoroughly Modern Millie." Set in 1922, "Millie" is the story of Millie Dillmount, a country girl who leaves Kansas for New York City determined to find a job as a stenographer so she can then marry her wealthy boss; she rents a room at the Priscilla Hotel for Woman, unaware what's really going on under the covers! Terry Burrell ("The Threepenny Opera"), Andrea Chamberlain ("The Drowsy Chaperone") and Andrew Rannels ("Hairspray") will star. (July 16 - 28)
"Beehive…the 60's Musical" journeys down memory lane with over 40 hits from the 1960s. Relive the high energy of impressionable female recording artists like The Supremes, Connie Francis, Aretha Franklin and Petula Clark in this light-hearted production. (July 30 - August 11)
"Corpse!," the award-winning play by Gerald Moon begins on August 13. Brent Harris and Brad Bellamy return for another season to star in this comedy thriller filled with twists, turns and hijinks set in 1936 London where sibling rivalry is taken to the extreme. Evelyn, an out-of-work actor, employs pleasant yet shifty Major Powell to do away with his sophisticated, wealthy identical twin brother so he can assume his identity and inherit his fortune. The appearance of Evelyn's theatrically boozy landlady adds to the unpredictability of this "foolproof" plan. (August 13 - 25)
The season concludes with Tony Award nominee "Lend Me a Tenor," Ken Ludwig's farce of mistaken identity and multiple misunderstandings. Set in an upscale Cleveland hotel suite in 1934, "Lend Me a Tenor" begins with The Cleveland Grand Opera Company eagerly awaiting the arrival of guest singer, world famous tenor Tito Morelli; he is to perform the title role in their gala performance of Verdi's Otello. When Tito oversleeps due to too much wine and a double dose of tranquilizers, the company assumes he has committed suicide and the General Manager's assistant is enlisted to go on in his place. When Morelli regains consciousness and insists on performing, chaos rules. The cast includes Judy Blazer ("Lovemusik"), Jeff Brooks ("Beauty and the Beast"), Jennifer Cody ("The Pajama Game"), Robert Cuccioli ("Jekyll & Hyde"), Hunter Foster ("Urinetown"), Leah Hocking ("Hairspray") and Virginia Seidel ("Face The Music"). (August 27 - September 8)
Often referred to as the "Birthplace of the Stars," The Cape Playhouse has attracted a long litany of famous actors since its inception in 1927.
As well, the Cape Cod Center for the Arts presents Theater for Children on the stage of the Cape Playhouse. From July 5 - August 24, the CCCA's Theater for Children will present performances on Thursday and Friday mornings at 9:30 and 11:30 AM.
For information and tickets call (toll free) 877-385-3911 or visit www.capeplayhouse.com.