North Shore Music Theatre (NSMT) continues its 2007 season with a new production of "Seven Brides For Seven Brothers." This new look, based on the MGM film of the same name, includes a revised script, new orchestrations and fresh choreography. Performance dates are May 29 – June 17.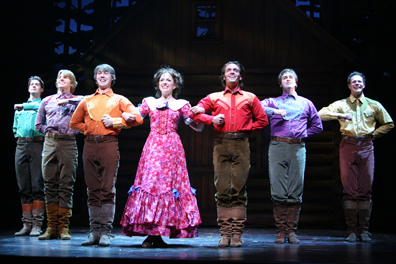 NSMT will join forces with two leading regional theaters, Theater Under the Stars in Houston and Paper Mill Playhouse in New Jersey for this co-production, which Variety described as "Rollicking and tuneful! Exuberant family entertainment!"

Set in 1850's Oregon territory, "Seven Brides For Seven Brothers" tells the story of Adam and his brothers' pursuit for brides. As the eldest of seven brothers, Adam goes into town to find a wife, convincing a young woman named Milly to marry him the very same day. They return to his backwoods home with Milly discovering that all six of Adam's brothers also live in the log cabin. She sets out to reform the ill-mannered siblings, who are, of course, anxious to get wives of their own. Adam then develops an inspired solution to his brothers' loneliness…kidnap the women they want!

The high energy comedy features a score with lyrics by Johnny Mercer, Al Kasha and Joel Hirschhorn and music by Gene de Paul, Al Kasha and Joel Hirschhorn. Favorite numbers include "Bless Your Beautiful Hide," "Love Never Goes Away," and "Wonderful, Wonderful Day" along with "I Married Seven Brothers" and "Where Were You," which have been added to this production.
Jon Kimbell, NSMT's Artistic Director and Executive Producer, commented, "I am thrilled to bring this exuberant and stunningly choreographed musical to the NSMT stage. At NSMT, our mission is to celebrate, perpetuate and invigorate the art of musical theatre and with 'Seven Brides for Seven Brothers,' we have transformed a classic musical and reinvigorated it for today's audiences."

"Seven Brides For Seven Brothers" stars Michelle Dawson and Edward Watts as Milly and Adam. Dawson has appeared on Broadway in "Ragtime," "Showboat" and "Cyrano The Musical," and has been a part of the national tours of "The Secret Garden," "The Music of Andrew Lloyd Webber" and "Annie." Watts was Joe in "The Most Happy Fella" and has appeared in leading roles in many regional theaters, including Goodspeed Opera, Baltimore Centerstage, Music Theatre of Witchita, Marriott Lincolnshire and Stages St Louis.

The supporting cast features Margot de la Barre, Randy Bobish, Christian Delcroix, Stephanie Fittro, Christina Rae Hedrick, Sarah Marie Jenkins, Travis Kelley , Luke Longacre, Kate Marilley, Denise Payne, Eric Sciotto and Karl Warden.

For tickets and information, stop by the box office at 62 Dunham Road in Beverly, call 978-232-7200 or visit www.nsmt.org

Free Audience Enrichment Events:
Meet the Theatre
Post show audience discussion with the artists on June 5 and 6 (after the 7:30 p.m. performance) and June 16 (after the 2 p.m. performance).
Spotlight on History - June 10
A free pre-show discussion focusing on historical issues related to the performance.
Out at the North Shore - June 14
An evening for the Gay and Lesbian Community with a post show reception.
-- OnStage Boston
Photo: Gerry Goodstein, Courtesy of Paper Mill Playhouse