New Repertory Theatre will present Andrew Lippa's musical comedy, "The Wild Party" from April 25 -- May 20. The cast will feature Leigh Barrett, Todd Alan Johnson, Marla Mindelle and Maruice E. Parent. New Rep's Producing Artistic Director Rick Lombardo will direct the production.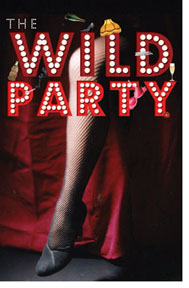 Evoking the glamour, sensuality, and decadence of Manhattan in the roaring twenties, "The Wild Party" chronicles an evening in the life of Queenie and Burrs, lovers and fellow vaudeville performers.
To test the limits of their fierce and hot-blooded relationship, Queenie throws the wildest party New York has ever seen. However, as the reckless and alluring guests arrive - all with stories of their own - seduction gives way to unbridled passion. And what began as an evening of games and titillation ends in violence. With a driving score by Andrew Lippa, "The Wild Party" blends contemporary music with the sounds of the Jazz Age.
Lombardo commented, "Andrew Lippa's energetic and imaginative score incorporates the musical idioms of rock, funk, rhythm and blues. This tour de force ensemble piece focuses on the damaging, destructive and corrosive effects of decadence and nihilism on this world and what it takes to transcend them."
Special Events include:
Out at New Rep – May 3
A special evening for LGBT theatre audiences! Enjoy a post-performance reception catered by 21 Nickels Grille and Tap of Watertown. Sponsored by Bay Windows.
35 & Under Night – May 4
A special evening for theatergoers age 35 and under! After the show, mingle with your friends – and meet new friends – at a post-performance reception catered by Strip-T's of Watertown.
"Pay What You Can" open dress rehearsal – April 24, 7:30 p.m.
Seating is general admission, limited to capacity. Cash only at the box office on the day of the performance, up to 30 minutes before curtain. The suggested minimum ticket price is $5.
For information and tickets, call 617-923-8487 or visit www.newrep.org
-- OnStage Boston