A Review

Step Right Up!
By R. J. Donovan
In what has become an annual rite of Spring, The Big Apple Circus has returned to Boston. Setting up shop in City Hall Plaza for the second year, the show is once again a mix of international fun and spectacle.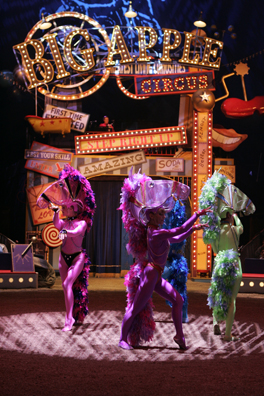 The theme of the 2007 show is "Step Right Up!" In keeping with the Boardwalk-like feeling, the primary host of this year's effort is Joel Jeske, a Side Show Barker of sorts. He's complimented by the clowning of Francesco and Grandma (who's oddly given little to do in comparison to years past).
Francesco proves to be a clown for all seasons, doing everything from shooting boomerangs around the tent to playing musical water glasses and bouncing ping pong balls off frying pans.
Russia's Svetlana Ivtchenko and Gennadiy Fedunov then present a playful round of beach games, complete with juggling and jumping rope with what look like giant candy beads.
Bulgaria's Andrey Mantchev, a familiar face with the Big Apple, has one solo spot this year, skittering up ropes and ending his moment in the spotlight with a head-first death drop.
The obligatory dog act is courtesy of Johnny Peer, who's Muttville Comix climb, jump and skateboard, yapping all the while.
The equestrian component finds England's internationally-acclaimed Yasmine Smart putting her magnificent collection of ponies through their graceful paces.
Additional highlights of the evening include the bicycle antics of Australia's Justin Case, whose cycle "falls apart," causing him to improvise to great effect. Just when you think he's playing bait-and-switch to avoid riding the thing, he comes up with a boffo finish by maneuvering a micro-bike through a blazing ring of fire.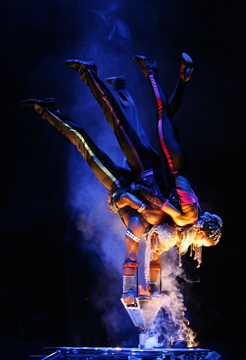 Some fancy hand-to-hand adagio balancing is provided by the dramatic father-daughter-boyfriend team of The Liazeed Trio (at left, from Germany and Cuba).
From China, The Zhengzhou Acrobatic Troupe are also first rate, putting a cap on the first act by twirling, spinning and rolling in a series of giant German steel hoops while decked out in day-glo outfits. They return in Act Two to leap, climb and bounce around on a series of towering swingpoles that sway back and forth like vertical trapeze swings.
Grandma, the longtime icon of the Big Apple, sails through the air like a geriatric Peter Pan before fooling around a bit with the ringside crowd, She also teams with Jeske in Act Two to score with a slapstick waterfest that's a major hit with the kids. (That said, I still miss her classic musical turn on her treadmill.)
Last but certainly not least, The Big Apple Circus Band (Johnny Hodges, Kaoru Ishibashi, Kristine Norter, Jason Brown, Neal Persiani, Bob Suttman and Sam Wiley Jr.), perched high above the action and led by Rob Slowik, is in top musical form, as always.
Beyond presenting its top-rate entertainers under the big top, The Big Apple Circus continues to do good work with the local community via its colorful Clown Care unit, the world's first and original professional resident hospital clowning program. Bringing laughter to acutely and chronically ill children year-round, the "Clown Doctors" make 250,000 one-to-one beside visits in pediatric hospitals around the country.
Now in its 29th year, the One-Ring Wonder will be in residence at City Hall Plaza through May 6.
For information, stop by the on-site box office or either of the BOSTIX Booths, call 617-931-2787 or visit www.ticketmaster.com.
Production Photos:Bertrand Guay/Big Apple Circus
-- OnStage Boston