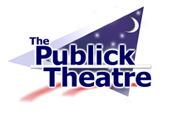 The Publick Theatre will open its 37th Summer season on July 5 with "Misalliance," George Bernard Shaw's piercingly funny examination on the themes of parents and children, love and marriage, aging and death, and atheism and infidelity. For the second half of the season, The Publick has selected Shakespeare's "Romeo and Juliet," to be presented from July 26 - September 16. Both productions will be directed by Artistic Director Diego Arciniegas.
The Publick provides the opportunity for summer theatre beneath the stars from its location in Christian Herter Park on the banks of the Charles River in Brighton, directly across the street from WBZ-TV. The theatre is wheelchair accessible and offers free parking.
George Bernard Shaw's "Misalliance"
July 5 – September 9
The central mismatch of this 1909 comedy is a decidedly odd couple: Hypatia, the lusty, free-spirited daughter of a free-thinking, philandering father who made a bundle in the underwear business, and her fiancé Bentley, a.k.a. Bunny, who is all brains, no body and the wealthy son of a powerful Lord. Hypatia wants something unusual to drop out of the sky -- and it does. An airplane crashes into the greenhouse, delivering an intelligent Adonis and bringing all the men an amazing, enticing female Polish acrobat. Before long, multiple romancing is underway (interrupted briefly by an attempted murder), while all the characters, including now the would-be murderer, talk, provoke and entertain.
William Shakespeare's "Romeo & Juliet"
July 26 – September 16
Famous as a tale about two "star-crossed" lovers, Romeo and Juliet is equally a tale about weaknesses in human nature, family structure and social order. Ever the humanist, Shakespeare poses troublesome questions about why these brilliant children miscarried on the way to adulthood. While the fate of these young lovers may have hung in the stars, the real tragedy lies in the number of ways in which things might have turned out better, but didn't. One after another, the social institutions that should have rescued them (family, church and ultimately the state) fail because of a preoccupation with war.
For tickets and information, call 617-782-5425 or visit www.publicktheatre.com.
-- OnStage Boston
04/02/07