Boozy chanteuse Kiki DuRane and her accompanist and only living friend, Herb, will bring their outrageously funny cabaret performance act, "Kiki & Herb: Alive from Broadway," to the Calderwood Pavilion at the Boston Center for the Arts from June 13-30 for 15 performances only. This engagement, presented by the Huntington Theatre Company, is the duo's first in Boston since they were infamously banned from the city decades ago.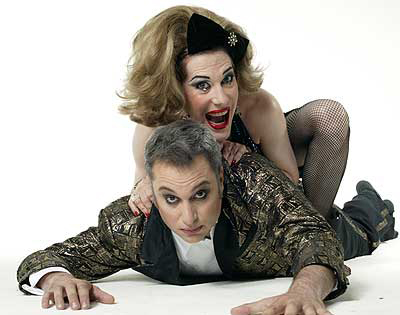 Kiki DuRane is a brash septuagenarian. She's never much cared what other people thought, but she's always willing to say exactly what she thinks. Onstage with the stalwart Herb, Kiki stumbles her way through a selection of songs punctuated by political rants, searching social commentary and recollections of a lifetime filled with unforgettable memories.Broadway

Describing their long and bumpy career, DuRane has said, "Herb and I started performing together professionally in the 1950s, when I was known as sort of a torch singer. In the '60s we were kind of a lounge act. In the '70s of course, we went through our disco phase. And a lot of people thought that we sort of dropped off the map in the '80s. But at that time we had a contract with the Princess Cruises line aboard the Love Boat. We've been on the comeback trail ever since."

This also describes the diverse influences found in their current show. Not satisfied simply doing endless versions of cabaret standards, Kiki & Herb display their unique musical prowess reinventing popular songs by great 20th and 21st century artists like Wu-Tang Clan, Joni Mitchell, Styx, Pat Benatar, Radiohead, Nirvana, Bonnie Tyler and Britney Spears.

"Kiki & Herb: Alive on Broadway" was a smash-hit success at the Helen Hayes Theatre in 2006 and landed on the list of Top Ten Broadway performances that year by The New York Times. The Associated Press raved, "Hilariously ribald and completely unfettered."
Ever since their triumph on the Great White Way -- and in the newly melted hearts of hardened New Yorkers -- the duo has been performing at the intimate setting of Joe's Pub in New York, where they play Sunday evenings until the end of May.

A Bit Of, ummm, History . . .
Kiki met Herb in the Eerie Children's Institute in Western Pennsylvania in 1934. By the time they were in their late teens, they were playing professionally on the burlesque circuit, where Kiki was billed as "The Completely Insane Miss Kiki DuRane." In 1957, they released their first LP "The Hazy Days of Kiki" to universal indifference.
Ten years later, the duo made its European debut at Monaco's Grand Casino, playing a Bastille Day ball thrown by Princess Grace. A few days later, Kiki's daughter Coco drowned in the French Riviera, prompting an emotional breakdown from which the already psychologically challenged Kiki never fully recovered.

After years of obscurity, bouts of alcohol and drug-induced psychosis, and a disastrous turn working for Princess Cruises, Kiki & Herb were rediscovered by a new generation in the early '90s in San Francisco. Since then, they have performed around the world as a self-described "freak show for the post-modern set."

The duo released the Christmas album "Do You Hear What We Hear?" in the summer of 2000 and made their off-Broadway debut at the Cherry Lane Theatre in 2003. In 2004 they delivered their farewell concert at Carnegie Hall, only to be coaxed from retirement the next year for their Broadway debut at the Helen Hayes Theatre.

Editors note: Kiki and Herb are the alter egos, respectively, of Justin Bond and Kenny Mellman.
For tickets and information, stop by the box office, call 617-266-0800 or visit www.bostontheatrescene.org.
-- OnStage Boston