The Huntington Theatre Company has unveiled its 2007-2008 Season, which includes two world premieres by local playwrights, the final work by award-winning writer Wendy Wasserstein, a play that landed on all the major Top Ten lists of 2006, the American premiere of a West End London smash on its way to Broadway, and a Bock and Harnick classic musical.

This also marks the final season to be programmed by Huntington Artistic Director Nicholas Martin, who in June 2008 becomes Artist Emeritus for two years. Martin will also direct the season-closing musical.
The schedule, in chronological order, includes:

John Buchan's "The 39 Steps"
Sept. 14 - Oct. 14, 2007
Boston University Theatre
Pre-Broadway American premiere

Mix an Alfred Hitchcock masterpiece with a juicy spy novel, add a dash of Monty Python and you have "The 39 Steps," a whodunit, part espionage thriller and part slapstick comedy, adapted for the stage from the famous film and novel.
Shots ring out across a crowded theatre and Richard Hannay is lured into a world of intrigue by a mysterious woman claiming to be a spy. When she winds up dead in his flat, he flees London with the police and a secret organization – The 39 Steps – hot on his trail. A runaway hit in London and the winner of the 2007 Laurence Olivier Award for Best New Comedy, this tongue-in-cheek thriller features four actors taking on more than 150 roles.

Hitchcock's 1935 classic film "The 39 Steps," based on the best-selling 1915 novel by John Buchan, is considered to be one of the most popular British films of all time. Adaptor Patrick Barlow is an English actor, comedian, playwright and founder of the comedic National Theatre of Brent. His collaborator, the highly regarded British actress Maria Aitken (who helmed the London production) will direct the show. After its American premiere at the Huntington, "The 39 Steps" will be produced on Broadway by Bob Boyett.

"Brendan"
By Ronan Noone
Oct. 12 - Nov. 11, 2007
Calderwood Pavilion

A recent Irish Immigrant, Brendan now calls Boston home. He misses his family but he's working hard to fit into his adopted country, earn his American citizenship and find both love and meaning in his new life in this funny premiere by acclaimed writer Ronan Noone.

Born and raised in Ireland, Huntington Playwriting Fellow Ronan Noone is quickly becoming one of America's top young playwrights. His recent play "The Atheist" was part of the Huntington's 2006 Breaking Ground Festival, and premiered in both New York and London. His other works include the acclaimed trilogy "The Lepers of Baile Baiste" (National Playwriting Award), "The Blowin of Baile Gall" (Elliot Norton Award for Best New Play) and "The Gigolo Confessions of Baile Breag." "Brendan" was developed as part of the Huntington's 2005 Breaking Ground Festival and received a student production by the Boston University School of Theatre Arts earlier this season.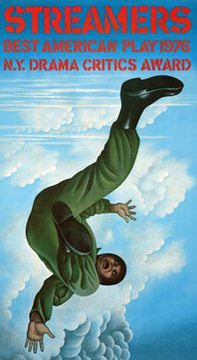 "Streamers"
By David Rabe
Nov. 9 - Dec. 9, 2007
Boston University Theatre

In this powerful American masterpiece, four young soldiers fresh from boot camp anxiously await orders in 1965 Virginia, watching the Vietnam conflict escalate. As they struggle to make sense of their new life in the army, tensions rise over race, sexuality and class, culminating in an explosive act that changes them forever. "Streamers" is an unflinching exploration of the turmoil and confusion facing young men threatened by forces beyond their control.

David Rabe is the Tony Award-winning author of "In the Boom Boom Room" and "Hurlyburly," and screenplays for "The Firm," "Casualties of War" and "I'm Dancing As Fast as I Can." Director Scott Ellis has received nine Tony and Drama Desk Award nominations and helmed the current Broadway hit "Curtains" starring David Hyde Pierce and Debra Monk, as well as "Twelve Angry Men" (Broadway and national tour), "1776," "Steel Pier," "The Little Dog Laughed" and many more. The New York Times called "Streamers" "absolutely a knockout!"

"Third"
By Wendy Wasserstein
January 4 - February 3, 2008
Boston University Theatre

Laurie Jameson is a revered, 54-year-old English professor at an elite New England college. A pioneer in her field, Laurie's seemingly well-ordered life and career slowly become unhinged when she meets Woodson Bull III (whose friends call him "Third"), a conservative, wrestler-jock student. Laurie and Third face off in a series of confrontations over politics, ethics and Shakespeare, forcing her to reevaluate many of her long-held beliefs.

"Third" is the final play from celebrated playwright Wendy Wasserstein, who drew upon her own life as inspiration for many of her works. She received the Pulitzer Prize, as well as Tony, Outer Critics Circle and Drama Desk Awards for her 1989 play "The Heidi Chronicles." Her other credits include "An American Daughter," "Uncommon Women and Others" and "The Sisters Rosensweig," which Nicholas Martin directed in 2005. Wasserstein died last winter shortly after "Third" premiered at New York's Lincoln Center Theatre.

"Shining City"
By Conor McPherson
March 7 - April 6, 2008
Boston University Theatre

"Shining City" is set in Dublin, where a guilt-ridden man reaches out to a therapist after seeing the ghost of his recently deceased wife. At the same time, the therapist's own relationship teeters on the brink. Originally produced in London to critical acclaim, "Shining City" transferred to Broadway in 2006 and landed on nearly all major critics' Top Ten lists.

"Shining City" was nominated for three 2006 Tony Awards including Best Play. Conor McPherson's other plays include "The Weir," "Rum and Vodka" and "Dublin Carol" while his many awards include the Laurence Olivier Award for Best New Play and the London Critics' Circle Award.

"The Cry of the Reed"
By Sinan Unel
March 28 - May 4, 2008
Calderwood Pavilion

In this world premiere production, a journalist and her colleague find themselves unexpectedly detained by a band of insurgents as bombs rain down on a war-torn landscape. Her captors offer one telephone call – a chance to reconnect with the mother she hasn't spoken to in ten years, who now lives in Turkey and is preparing for a festival celebrating the great Sufi poet Rumi. History and religion collide in this powerful, ripped-from-the-headlines portrait of a world at war.

Playwright Sinan Unel's works have been produced in New York, Boston, New Haven, Los Angeles, London, Germany and Australia. A former Huntington Playwriting Fellow, he is the winner of the John Gassner Memorial Award, the Daryl Roth Creative Spirit Award and the Lark Theater's New Play Award. His other plays include "Pera Palas," "Tolstoy's Den," "Thalassa My Heart" and "The Three of Cups."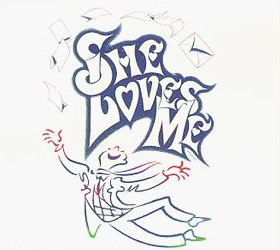 "She Loves Me"
Directed by Nicholas Martin
May 16 – June 15, 2008
Boston University Theatre

The warm and funny musical "She Loves Me" is often touted as having one of the most beautiful scores in the American theatre. Music and lyrics are by Sheldon Harnick and Jerry Bock with a book by Joe Masteroff. "She Loves Me" is the first major musical produced by the Huntington in six years, and will be the final directing assignment for Nicholas Martin in his role as Artistic Director.
Acclaimed since its 1963 premiere and rediscovered in a hit 1993 Broadway revival, "She Loves Me" is the romantic story of two lovesick, anonymous pen pals who work together during the day, blissfully unaware they are writing to each other at night. Centering on these unlikely sweethearts and the eccentric colleagues who aid and abet them, "She Loves Me" is based on "Parfumerie," the play that also inspired the Jimmy Stewart film "The Shop Around the Corner," and the Tom Hanks/Meg Ryan film "You've Got Mail."
Bock and Harnick's credits include the Tony Award and Pulitzer Prize-winning "Fiorello!," "Fiddler on the Roof," "The Apple Tree," "Tenderloin," "The Rothchilds," and "Cyrano - The Musical." Joe Masteroff also wrote the book for the Kander and Ebb musicals "Cabaret" and "70, Girls, 70."

Subscriptions Available Now
The Huntington has added flexiblity to subscription choices for the 2007-2008 season, offering packages in 4, 5, 6, or 7 play increments. Subscription prices at all levels have been reduced for the new season, with packages that start as low as $100.

For subscription information, contact the Huntington box office at 617-266-0800.
Logo Credits:
"Streamers" -- Lincoln Center production
"Shining City" -- Broadway production
"She Loves Me" -- Broadway revival
-- OnStage Boston
04/19/07