To quote Kenneth Haigh, "You need three things in the theater, the play, the actors and the audience, and each must give something."
Today, with expanding options for at-home entertainment, the theater is faced with increasing competition to attract the last, and perhaps, most important element — the audience.
What is it that still draws millions every year to a darkened auditorium and a stage? What are writers, directors and actors doing to bring in new generations of theater goers? Will we continue to make our way to Broadway and regional productions for decades (and centuries) to come?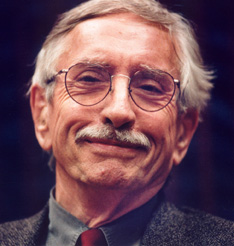 We'll have a chance to find out when Ford Hall Forum presents "Does Theater Have a Future? The Players Look Forward …" with Edward Albee (at left), Rick Lombardo and Karen MacDonald on Monday, April 30, from 6:30-8:00 pm. in Rabb Auditorium at the Boston Public Library in Copley Square (700 Boylston Street).
The panel will be moderated by Ed Siegel and followed by an open discussion. Admission is free and open to all.
Edward Albee is a three-time Pulitzer Prize-winner who has defined modern American theater with four decades of provocative and controversial plays. Called "the greatest living playwright" by The New Yorker, Albee is perhaps most well-known for his three-act drama, "Who's Afraid of Virginia Woolf?" Albee explores the most intimate aspects of our lives and society — from race relations ("The Death of Bessie Smith") and family life ("A Delicate Balance") to mortality ("The Lady from Dubuque") and the blurred line between reality and illusion ("Seascape"). His other plays include "The Sandbox," "The American Dream," "The Play About the Baby" and "Three Tall Women." Albee won his Pulitzer Prizes for "A Delicate Balance" (1966), "Seascape" (1975), and "Three Tall Women" (1994). He also has received two Tony Awards for "Who's Afraid of Virginia Woolf?" (1962) and "The Goat or Who is Sylvia?" (2002). He is a Kennedy Center Honoree and in 1996 was awarded the National Medal of Arts. In 2005, "Virginia Woolf" returned to Broadway, starring Kathleen Turner and Bill Irwin, and received six Tony Award nominations, including Best Play. Albee also received a special Tony Award for Lifetime Achievement in Theatre. He currently is working on a new production of his play, "Peter & Jerry," which is scheduled to open at Second Stage in Fall 2007.
Rick Lombardo is celebrating his tenth season as New Repertory Theater's Producing Artistic Director. Recently at New Rep, he directed "Into the Woods," along with the Boston premiere of "Quills" and the world premiere of "Approaching Moomtaj." Last season, he also directed the critically-acclaimed productions of "La Vie Parisienne" for Opera Boston and "The Lovers" for Wellfleet Harbor Actors Theatre. He is honored to be a two-time recipient of the Elliot Norton Award from the Boston Theatre Critics Association for Outstanding Director. In recent seasons at New Rep, he also directed "The Threepenny Opera," the world premiere of "A Girl's War," his new musical adaptation of Moliere's "Scapin," "Waiting for Godot" (IRNE Award, Best Drama), and the acclaimed production of "Sweeney Todd" (2004 Elliot Norton Award for Outstanding Director, IRNE Award for Best Director, and Elliot Norton Award for Outstanding Musical Production). His production of "The Weir" received three 2001 IRNE Awards, including Best Drama. He received the 2000 Elliot Norton Award for Outstanding Director for his production of "Rosencrantz and Guildenstern Are Dead." In previous years, he directed the award-winning New Rep productions of "The Scarlet Letter," "American Buffalo," "A Moon for the Misbegotten," "Twelfth Night," "Beast on the Moon," "Das Barbecü," "Tartuffe" and "The Real Thing," among others. He has taught at several universities, including Fordham University's College at Lincoln Center in New York, where he was also Co-Director of the theatre program. Rick is currently President of NEAT, the association of New England Area Theatres, and serves as a member of the Board of Directors of StageSource. He is a also member of the Society of Stage Directors and Choreographers.
Karen MacDonald is a founding member and veteran of fifty-eight productions at the American Repertory Theatre. Recent roles: Ms. Bumble ("Oliver Twist"), Euphrosine ("Island of Slaves"), Nurse ("Romeo and Juliet") , Estelle ("No Exit," Elliot Norton Award) Ellen ("Olly's Prison," Elliot Norton Award), Anna ("Dido, Queen of Carthage"), Madamoiselle ("The Provok'd Wife," IRNE Award), Frosine ("The Miser," IRNE Award), Meg ("The Birthday Party," IRNE Award), Titania/Hippolyta ("A Midsummer Nights Dream," IRNE Award), Waitress/Circe ("Highway Ulysses"), Simonne ("Marat/Sade"), Emilia ("Othello," IRNE Award), and the title role in "Mother Courage and Her Children." Local credits include directing Leslie Dillen and Paula Plum in "Dressed up/Wigged Out" (Boston Playwrights Theatre), "The Misanthrope" (Berkshire Theatre Festival), "My Heart and My Flesh," "Infestation" (Boston Playwrights Theatre), "Hamlet," "Twelfth Night," (Commonwealth Shakespeare Co.), "The Beauty Queen of Leenane" and "The Last Night of Ballyhoo" (Vineyard Playhouse), "Shirley Valentine" (Charles Playhouse), "Who's Afraid of Virginia Woolf?" (Elliot Norton Award), "Frankie and Johnny in the Clair De Lune" and "A Moon for the Misbegotten" (Merrimack Repertory Theatre). New York credits include Roundabout Theatre, Second Stage, Playwrights Horizons, Actors' Playhouse and the Westbank. National credits: Houston's Alley Theatre (company member), Long Wharf Theatre, Goodman Theatre, GeVa Theatre, Syracuse Stage, Buffalo Studio Arena, Cincinnati Playhouse, Alabama Shakespeare Festival and The Wilma Theatre. Film and TV appearances include "Law and Order," "What's the Worst That Can Happen?," "The Crucible," "Orphan" and several projects for PBS/WGBH. She was a member of Boston's Proposition and a founder of the Next Move Theatre. MacDonald is a graduate of Boston University's College of Fine Arts.
Ed Siegel (moderator) worked at the Boston Globe from 1971 to 2006 and now covers the arts for, among others, WBUR-FM, the Boston Phoenix, Berkshire Living magazine and the Globe.
In its 99th spring series of events, the Ford Hall Forum presents seven open public discussions on the issues concerning our community, nation and world today. From global warming to immigration to disaster preparedness, the Forum hands over the microphone to thought-provoking speakers on the front lines. To facilitate frank and open discussion, equal time is provided for speakers' remarks and audience members' questions. At the Ford Hall Forum, no speaker goes unquestioned and no view goes unchallenged.
Its events illuminate the key issues facing our society by bringing to its podium knowledgeable and thought-provoking speakers, including some of the most controversial opinion leaders of our times. These speakers are presented in person, for free, and in settings, which facilitate frank and open debate. As the nation's oldest free public lecture series, it has a storied past as a venue for some of the most intriguing figures in our nation's modern history, including Maya Angelou, Isaac Asimov, Alan Dershowitz, W.E.B. DuBois, Stephen Jay Gould, Al Gore, Dr. Martin Luther King, Jr., Henry Kissinger, Norman Mailer, Ayn Rand, Cokie Roberts, Eleanor Roosevelt and Malcolm X, to name just a few.
For more information call Ford Hall Forum at 617-373-5800 or visit www.fordhallforum.org.
-- OnStage Boston