Huntington Presents New England Premiere of
Wendy Wasserstein's "Third"
A battle of wills and politics roll through a pastoral New England college in the Huntington Theatre Company's regional premiere of Wendy Wasserstein's final play, "Third," playing January 4 - February 3 at the Boston University Theatre. "Third" is staged by award-winning director, actor and B.U. graduate Richard Seer.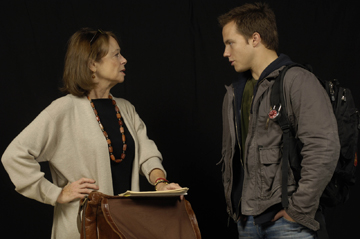 Set in a small New England town, "Third" is the thought-provoking story of Laurie Jameson, a renowned liberal English professor, and her conservative student jock, Woodson Bull III, whose nickname is Third.
Third is Laurie's polar opposite in every way, and they lock horns in the classroom over ethics, hypocrisy and academic discrimination. Meanwhile, at home, Laurie battles an independent-minded daughter and ill father. Much like the "King Lear" lessons Laurie teaches in her class, "Third" unfurls a story reminiscent of Shakespeare in its scope and drama.

As she had often done in her plays, Wasserstein used her own life as an inspiration for "Third." A graduate of Mount Holyoke College in central Massachusetts, she was hailed a feminist who broke ground for women though her work and the characters in her plays.
Huntington Artistic Director Nicholas Martin says he likes the way Wasserstein's final play upends traditional liberal tenets. "In 'Third,' Wendy brilliantly examines the flaws in liberal thinking as it is practiced today, and presents a point of view that is brave and not altogether fashionable."
The cast features Maureen Anderman as Laurie Jameson and Graham Hamilton as Woodson Bull III (photo above).
Anderman previously appeared at the Huntington in "Rabbit Hole" and "The Sisters Rosensweig." Her Broadway credits include Edward Albee's "The Lady From Dubuque" and Michael Weller's "Moonchildren." Off Broadway she appeared in Sara Ruhl's "Passion Play" and A.R. Gurney's "Later Life" among others.
Hamilton has appeared Off Broadway in "The Two Noble Kinsmen" for the Public Theater while his regional credits include "Hamlet" at South Coast Repertory, "Two Gentleman of Verona" at Shakespeare Festival/L.A. and numerous productions at The Old Globe in San Diego.
Wendy Wasserstein is the celebrated author of "The Heidi Chronicles" for which she received the Pulitzer Prize, Outer Critics Circle and Drama Desk Awards, as well as the Tony Award for Best Play (the first time the Award had been won by a women writing solo). Her other plays include "An American Daughter," "Uncommon Women and Others," "Isn't It Romantic?," and "The Sisters Rosensweig," which the Huntington staged in 2005. Her final work, "Third," premiered in New York in 2005. Wasserstein's career was cut short when she died in January 2006 at the age of 55, following the premiere of "Third." The lights of Broadway were dimmed in her honor, and in 2007 she was inducted into the American Theatre Hall of Fame.

RELATED EVENTS
All listed events are free with the purchase of tickets to any performance of "Third."
Tuesday, January 8 - Neighborhood Night
Residents of the Fenway and Mission Hill are invited to a pre-show reception. Begins at 6 p.m.
Tuesday, January 8 -- Sneak Preview
Get an insider's view of the show from participating designers, directors and/or staff. Begins at 6:30 p.m.
Thursday, January 17 -- Actors Forum
Participating members of the cast take your questions following the 7:30 p.m. performance.

Sunday, January 27 -- Humanities Forum
Get the historical and literary context of the play in a lively post-performance session.

Wednesday, January 30 -- Actors Forum
Participating members of the cast take your questions following the 2 p.m. matinee.

Friday, February 1 -- ASL-Interpreted performance
This performance will be American Sign Language-interpreted for Deaf and hard of hearing audience members.

Friday, February 1 -- College Night
College students are invited to join us for a special post-show backstage tour and party.

For tickets and information, stop by the box office at 264 Huntington Avenue, call 617-266-0800 or visit www.huntingtontheatre.org.
-- OnStage Boston
Production photo: Eric Antoniou