"The Eight: Reindeer Monologues"
The Santa Scandals
For those weary of mistletoe and holly, The X-MAS Project will present Jeff Goode's "The Eight: Reindeer Monologues" at the Factory Theatre in the South End from December 19 - 30. The production will be directed by Jackie Davis and proceeds will benefit The Boston Area Rape Crisis Center.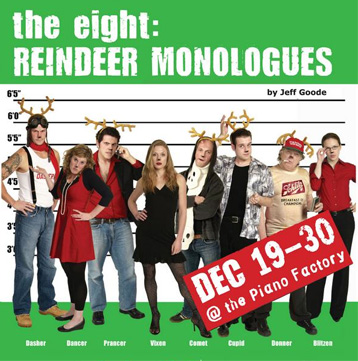 The darker side of Christmas is explored in this one-act black comedy the The Village Voice termed "arrestingly funny."
Scandal descends on the North Pole when one of Santa's reindeer accuses Old St. Nick of extreme naughtiness.
Once the media gets wind of what's up, the other members of the renowned Sleigh Team demand to share their own stories and a horrific tale of corruption and perversion emerges.
From the littlest elf to the Jolly Old Soul himself, everyone seems guilty of something. Dirt is dished, egos fly, and the resulting tale lays bare Vixen's allegations, Rudolph's mental health and why Dancer no longer dances.
The X-MAS Project is a collective of Boston fringe actors, including Ed Peed, Melissa Baroni, Greg Maraio, Eliza Lay, Hannah J. Barth, Brett Marks, Curt Klump and Anthony Goes.
For information and tickets, visit www.reindeerinboston.com.
Suggested for Mature Audiences.
-- OnStage Boston