Hot Flash!
"Menopause The Musical" Returns
"Menopause The Musical," the off-Broadway sensation that broke attendance records at the Stuart Street Playhouse, returns for a limited engagement. The Celebration of Women and The Change will begin performances Thursday, January 31, 2008.
Written by Jeanie Linders, "Menopause" is a musical parody dealing with life after 40 -- with all the challenges that come with the mental, physical and spiritual freedom of more than 20 million female baby-boomers.
The show chronicles the meeting of four women at a lingerie sale in Bloomingdale's. They soon realize how much they actually have in common -- memory loss, hot flashes, night sweats, chocolate binges, wrinkles, plastic surgery, hormones, not enough sex, too much sex, and much more. Including 25 re-lyricized '60s and '70s hits, the production culminates with a high-spirited salute to every woman who's ever turned 50.

"Menopause" became a local phenomenon when it enjoyed a record-breaking run of nearly two years at the Stuart Street Playhouse, from 2004 to 2006. The show played to sell-out houses, with audience members jumping to their feet nightly and joined the cast onstage for a kick line at the end of each performance!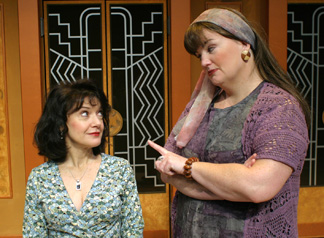 This musical showcase of women who are on the brink of, in the middle of, or have survived "the change" will feature Boston actresses Kathy St. George and Mary Callanan (at left) as an aging soap star and a lost-in-the-60's hippie, the roles they played in the show's original Boston run. The duo will be joined by Lisa Mack and Carolynne Warren in the roles of a Power Woman and Iowa Housewife.

Since its inception in 2001, "Menopause" has been seen in more than 100 cities across the country (including New York, Atlanta, Chicago and Los Angeles) and 10 other countries (including Australia, Canada, Israel, Italy, Malaysia, New Zealand, Philippines, United Kingdom, South Africa and South Korea). The show is currently playing in Minneapolis, Las Vegas, Philadelphia and Dublin, with new productions scheduled to open in another 20 cities next year.

For tickets and information, stop by the box office at the Raddison Hotel (200 Stuart Street), call 800-447-7400 or visit www.stuartstreetplayhouse.com.
-- OnStage Boston