Peter DuBois Named Huntington's Artistic Director
Peter DuBois -- the award-winning resident director and former associate producer at New York's acclaimed Public Theater, and former artistic director of Alaska's innovative Perseverance Theatre Company -- will become the Huntington Theatre Company's Norma Jean Calderwood Artistic Director on July 1, 2008.

Huntington Board of Trustees Chairman J. David Wimberly made the announcement after the Board ratified the results of an 11-month national search. DuBois succeeds Nicholas Martin, who has been artistic director since 2000 and announced last year he would leave the company in June 2008.

In a prepared statement, Wimberly said, "Peter's distinctive strength is his ability to understand and cultivate both sides of an artistic organization. He is a first-rate director, a gifted nurturer of talent, and a true institutional leader."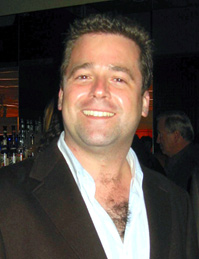 DuBois (at left) commented, "I'm thrilled to inherit one of this country's most artistically vital and important theatre companies. Michael (Maso, the Huntington's long-term managing director) and Nicholas have done a marvelous job building the institution to its next level. The fantastic theatre spaces, a strong partnership with Boston University, and the incredible staff and board form a remarkable foundation to build a future upon. I look forward to unifying all elements of the Huntington into a vision that embraces the best of the American theatre, for the benefit of the artists who work here, our subscribers, and the Boston audiences."

He continued, "I'm particularly excited to meet the people of this city, welcome them into the Huntington, and let them know this is their theater. They deserve a sense of ownership here and I want to find ways to invite them into the process, to generate excitement for the work on stage. As I have done --and seen done -- in other places, I think we can remove the distance between artists and audiences, and allow our patrons to embrace theatre as an everyday event in their lives".

He added, "Making the Huntington part of the next chapter in my life as a director is truly thrilling. I grew up in New England, and Boston feels like home to me; I can't wait to be there."

At the Public, DuBois directed a number of major productions, including the 2006 OBIE Award-winning production of David Grimm's "Measure for Pleasure" (for which he also won the prestigious Joe A. Callaway Award for excellence in directing from the Society of Stage Directors and Choreographers), the acclaimed 2004 staging of "Richard III" (with Peter Dinklage for the New York Shakespeare Festival), and 2007's "Jack Goes Boating" (in collaboration with the LAByrinth Theatre Company and starring Philip Seymour Hoffman, John Ortiz and Daphne Rubin-Vega).

DuBois' wide-ranging responsibilities at the Public also included work on the theatre company's Broadway transfers and co-productions with high-profile New York companies such as LAByrinth, The Wooster Group and The Civilians, as well as oversight of international artistic collaborations, most notably with Dublin's Abbey Theatre and The Royal Court Theatre in London.

A champion of young talent, DuBois developed and managed programs to support rising stage directors at the Public, and served as the company's artistic liaison to its patrons, corporate funders, and individual supporters.
Public Theater Artistic Director Oskar Eustis (and former Artistic Director at Trinity Repertory Company in Providence) commented, "I have known Peter since his student days at Brown, and I have watched his career with joy and amazement ever since. From Czechoslovakia to Alaska to New York, Peter has succeeded everywhere he has worked. Boston is lucky to have him."

DuBois' years at the Public saw him producing, directing and/or shepherding productions comprising hundreds of top-notch actors -- including such well-known stars as Meryl Streep, Michael Cerveris and Rosie Perez, among others -- and many of the country's top playwrights such as Tony Kushner, Christopher Durang, Neil LaBute, Caryl Churchill, Jose Rivera and Craig Lucas.
Productions he directed have been nominated for several Drama League Awards, and in 1999 he was named by American Theatre Magazine as one of the 15 artists who would "transform America's stages for decades to come."
DuBois has a number of projects under development including: a musical by writer Rachel Sheinken ("25th Annual Putnam County Spelling Bee"), Tony Award-nominated composer Michael John LaChiusa and singer/actress Lea Delaria; a new interpretation of Clare Booth Luce's "The Women" with Perez; a contemporary update of "The Mikado;" and a revival of Moliere's "Tartuffe."
DuBois received a bachelor's degree from Villanova University, holds a master's degree in theatre from Brown University, and has studied at St. Catherine's College (Oxford University), and at University College in Galway, which is affiliated with Ireland's Druid Lane Theatre Company.
-- OnStage Boston