Father-Son Casting Highlights
"A Christmas Carol"
At New Repertory Theatre
New Repertory Theatre is teaming up with Watertown Children's Theatre and the Arsenal Center for the Arts to present their annual production of Charles Dickens' "A Christmas Carol." Performances run Dec 9 - 23. Rick Lombardo, New Rep's Producing Artistic Director, has adapted the classic story for the stage.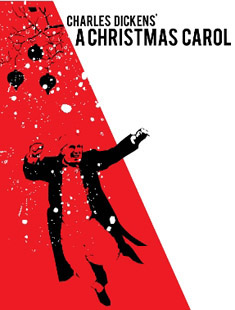 This collaborative tradition features a cast of area favorites including Paul D. Farwell, returning for his third year as Scrooge. This year's production introduces Ben Evett, recent recipient of the Elliot Norton Award for Best Actor, as Bob Cratchit. In a case of art imitating life, his son, Spencer Evett, will play Tiny Tim.

Lombardo commented, "It's a pleasure to be working with these two organizations again on this show. It's wonderful that our joint efforts make this heartwarming holiday tale available for adults and children alike, year after year. I am thrilled to have my good friend Ben join us this year and look forward to working with all the wonderful Boston actors who join us year after year and have made this production part of their own holiday traditions."

"A Christmas Carol," originally published in 1843, introduces the iconic holiday figures of Ebenezer Scrooge, Bob Cratchit, Tiny Tim, and the three spirits of Christmas. Dickens' story, widely popular in its day and still a beloved holiday tradition, also explores the darker side of prosperity in Victorian England, while exposing the bleak destiny of the working poor.
New Repertory Theatre presents provocative and intelligent works of both established and emerging playwrights in an intimate setting that involves and engages the audience. New Rep has received Elliot Norton and IRNE Awards for outstanding acting, scenic design, direction and production.

Watertown Children's Theatre was founded in 1983 by Artistic Director Dinah Lane. Combining values of artistic excellence with inclusiveness, reflected in its affordable fee structure, its open audition policy and its involvement of entire families, the WCT has continuously ensured its place as a highly valued member of the artistic community.
For tickets and information, stop by the box office at 321 Arsenal Street in Watertown, call 617-923-8487 visit www.newrep.org.
-- OnStage Boston