North Shore Music Theatre
Presents 19th Anniversary Production Of
"A Christmas Carol"
Spirits fly. Snow falls. And a man named Scrooge learns the true meaning of Christmas.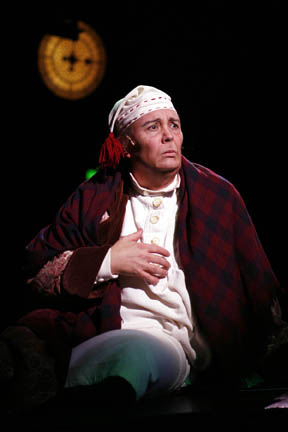 A holiday tradition continues for the 19th year when North Shore Music Theatre presents "A Christmas Carol," directed by NSMT Artistic Director and Executive Producer Jon Kimbell. The Dickens classic has been adapted specifically for NSMT audiences by Kimbell and members of the NSMT staff. Performances run November 30 - December 23.

Since its World Premiere 19 seasons ago, "A Christmas Carol" has been seen by more than 1 million patrons, including more than 100,000 school children.
"'A Christmas Carol' is a timeless story that resonates with people of all ages and carries a message that is just as genuine and poignant now as it was when it first premiered," said Kimbell. "It's wonderful to see generations of families coming together year after year to experience such a heart warming holiday tradition."

"A Christmas Carol" tells the tale of curmudgeonly miser Ebenezer Scrooge, who is visited by the ghosts of Christmases Past, Present and Future, hoping to change his destiny and save his soul. Audiences will travel with Scrooge as he sets off on a magical journey where he discovers the true spirit of the holiday season. With special effects, traditional and original songs, and colorful costumes, "A Christmas Carol" is a timeless favorite.

This year's production marks David Coffee's 16th consecutive year playing Ebenezer Scrooge and his astounding 43rd appearance at NSMT. David (at left, above) most recently played Bela Zangler in NSMT'S production of "Crazy For You." Last season, he was seen in "Singin' in the Rain," "Cinderella" and NSMT's regional theater premiere of "Hairspray.
Throughout the run of "A Christmas Carol," NSMT will be collecting toys in the lobby for Tiny Tim's Toy Drive. The theater will be accepting unopened, unwrapped toys for boys and girls, ages 2 – 12. All toys will be donated to three area organizations: Beverly Children's Learning Center, Beverly Bootstraps and Headstart of Peabody.

For tickets and information, call the box office at 978-232-7200 or visit www.nsmt.org. Personal listening devices, large print and Braille programs are available.

Free Audience Enrichment Events:
Christmas with the Cratchits - December 9, 16 and 23 before the 2 p.m. shows
This very popular free pre-show discussion focuses on the origins of the popular traditions that patrons have come to associate with the holiday season. To participate, come to the North Shore Music Theatre Lobby at 1:00 pm. Program begins promptly at 1:15 pm. For more information, please call the Box Office at 978-232-7200.

Out at the North Shore - December 14
This evening for the Gay and Lesbian Community includes a free post-show reception with live entertainment and the chance to meet members of the cast. Sponsored by Greater Boston Business Council, In Newsweekly, Sparkling Soirees, Beverly Athletic Club, Barefoot Wine, and The Pub @ 47 Central.
Added Holiday Event at North Shore Music Theatre:
Holiday Illumination - November 30, 2007, 4 to 7 p.m.
NSMT invites patrons, families and friends to the official start of the holiday season. This celebration is free and open to the public. Highlights include festive decorations and lights, a tree lighting ceremony, delicious holiday confections, hands-on holiday crafts, appearances by cast members of "A Christmas Carol," sing-a-long caroling led by the NSMT Academy Choir, and readings of "A Christmas Carol " featuring Jon Kimbell and members of the cast.
-- OnStage Boston
Production Photos: Paul Lydon