"This Wonderful Life"
Pays Homage To Capra Classic
At Lyric Stage
As it's holiday production, Lyric Stage Company of Boston will present the New England premiere of Steve Murray's "This Wonderful Life." Performances will run November 23 through December 22. Directed by Jack Neary, "This Wonderful Life" is a one-man homage to the beloved Frank Capra film, "A Wonderful Life."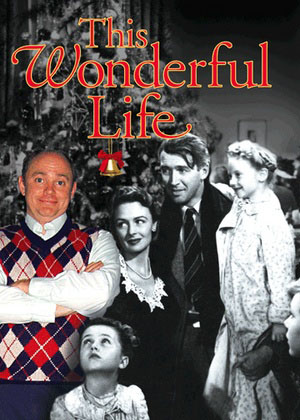 As in the original film, it's Christmas Eve in Bedford Falls, a small New England town, near the end of World War II. George Bailey, one of the town's good citizens, fears he's failed his family, his friends and his town. In despair, he considers suicide until Clarence, a dotty angel-in-waiting, shows him how bleak the world would have been if he'd never lived.
The twist here is that all the roles are played by one actor -- in this case, Boston favorite Neil Casey (at far left with the Baileys), who returns to Lyric Stage after appearing in "The Underpants," "Noises Off," "It's All True," "When Pigs Fly," "Glengarry Glen Ross" and "Assassins."
Called "a tour de force" by The Oregonian, "This Wonderful Life" was commissioned by Portland's Center Stage, where it premiered last November.
Award-winning playwright and film critic Steve Murray has had his work produced in Atlanta at Emory, Actor's Express, Horizon Theatre Company and PushPush as well as Portland Center Stage, Cincinnati Playhouse in the Park, San Francisco's New Conservatory Theater, and others. "This Wonderful Life" will also be staged this season at Pittsburgh Public Theater, San Jose Repertory and Vancouver's Pacific Theatre. His other plays include "Hungry to Bed," "Rescue and Recovery" and "Manna."
In addition to his previous work at Lyric, Casey's stage credits include "A Funny Thing Happened On The Way To The Forum" at Boston Theatre Works, "Take Me Out" at Boston Theatre Works/SpeakEasy Stage Company, "Love's Labour's Lost" at The Huntington Theatre Company, and "The Violet Hour" and "The Dazzle" at Stoneham Theatre. A company member of "Shear Madness," he spent the last six summers at The Mountain Playhouse in Pennsylvania where he performed in "Loot," "42nd Street," "Tom, Dick, and Harry," "Communicating Doors" "Run for Your Wife" and "She Loves Me."
For tickets and information, stop by the Lyric box office at 140 Clarendon Street, call 617-585-5678 or visit www.lyricstage.com.
-- OnStage Boston