"West Side Story" At Boston Conservatory
October 25 - November 4
Leonard Bernstein's Daughter Special Guest on October 27
The Boston Conservatory Theater Ensemble will present a 50th anniversary production of the Leonard Bernstein-Arthur Laurents-Stephen Sondheim masterpiece, "West Side Story," from October 25 - November 4 at The Boston Conservatory Mainstage Theater, 31 Hemenway Street in Boston.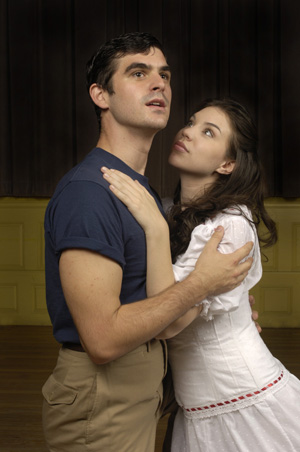 The production will be directed by Neil Donohoe, Director of the Theater Division. Juniors John Bamberry and Ashleigh Davidson (daughter of singer and television personality John Davidson) star as Tony and Maria (at left).
One of the most famous and beloved musicals in the American canon, "West Side Story" remains as vibrant and relevant as when it premiered in 1957. Loosely based on Shakespeare's "Romeo and Juliet," "West Side Story," tells a tragic love story of gang warfare and racial tension that still resounds today.
Jamie Bernstein Thomas, daughter of Leonard Bernstein, will provide a special pre-curtain talk on Saturday, October 27, at 12:30 p.m. in Boston Conservatory's Seully Hall, located at 8 The Fenway. She will share "the ultimate insider's view" and discuss the original production, its history and modern day relevance of "West Side Story," which has been a part of her life since age five (and which she describes as the "fourth sibling" in the Bernstein family).
She commented, "I love seeing 'West Side Story' performed by young artists, the way it was intended. I know my father would be gratified to see this continuation of his work."
In her address, Bernstein Thomas will also share letters exchanged by her parents during the creation process and details about the rejections "West Side Story" originally received from almost every producer in New York.
As theater aficionados know, the project was originally based on a Catholic-Jewish conflict between young lovers. Feeling that story line had already been covered in other shows, the creators let the show languish until they hit upon the (then) timely topic of gang wars on New York's upper west side. The electric plot of The Sharks vs. The Jets was born, with the ill-fated lovers named Tony and Maria.
Bernstein Thomas's connection to The Boston Conservatory comes through her father's working relationship with Boston Conservatory President Richard Ortner. The two men worked together at Tanglewood from 1974 until Bernstein's death in 1990.
Following Bernstein's death, Ortner arranged for musicians from around the globe to perform at the public funeral, held at St. John the Divine and attended by approximately 10,000 people.
The Boston Conservatory offers fully accredited graduate and undergraduate programs in Music, Dance, Theater and Music Education, and presents more than 200 performances each year by students, faculty and guest artists.
For information on The Conservatory, visit www.bostonconservatory.edu.
For ticket information, call the box office at 617-912-9222.
-- OnStage Boston
Photo: Eric Antoniou Photography