A Review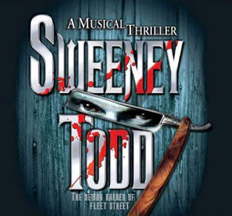 Attend The Tale . . .
By R. J. Donovan
Stephen Sondheim's "Sweeney Todd" began life as a massive 1979 production. From story to music to scenery, the entire show was like a gigantic piece of factory machinery, bellowing steam and screams as it ground its way through the operatic-like evening.
Billed as a musical thriller (Hugh Wheeler wrote the book), the story was that of a maniacal barber in Victorian London. Having been wronged, he set off to plot his revenge, slitting throats left and right as he proceeded. As the song goes, "He shaved the faces of gentlemen, Who never thereafter were heard of again."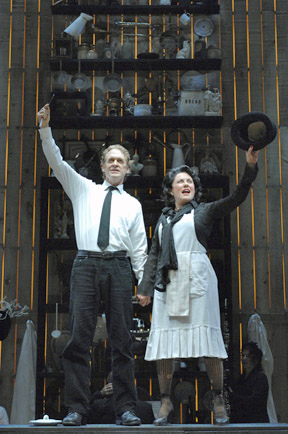 His partner in crime, so to speak, appeared in the form of his landlady, Mrs. Lovett, a baker. She was short on meat for her pitiful pies, but with the demon barber of Fleet Street providing a gruesome supply of fresh ingredients, her creations suddenly became a tasty treat.
For a bit of history, the character of Sweeney Todd dates back to the 1800s. And it's debatable whether he was fact or fiction. At any rate, he's been the subject of books, stories and plays for quite a while. (His next incarnation will be through the Tim Burton film version of the musical, which opens this December starring Johnny Depp.)
In 2005, director John Doyle re-thought the original 1980 production completely, giving it a stripped down, minimalist look and feel. At the same time, he eliminated the pit orchestra and came up with the idea of having the actors play their own instruments -- live on stage -- in an insane asylum.
The idea was a hit. And that's the version currently playing at The Colonial Theatre.
Len Cariou and Angela Lansbury were the original stars. Patti LuPone and Michael Cerveris led Doyle's 2005 Broadway revival. And now Judy Kaye and David Hess (above) star in the shadowy national tour, which is kicking off here in Boston.
Based on its content, this is not necessarily an easy show to watch. After all, you've got an insane man cutting people's throats. And like a lot of Sondheim shows, the music and lyrics are not going to be on your lips as you walk up the aisle (with the exception of the familiar ballads "Pretty Women" and "Not While I'm Around").
That said, this is a clever and gripping production (although Sondheim purists will probably disagree). Done more as a chamber piece, the cast remains on stage whether they are in a particular scene or not.
The company is first-rate, led by David Hess as Sweeney and Judy Kaye as Mrs. Lovett. Hess is a towering presence who lends a wash of common sense to his madness while Kaye brings a wonderfully expressed humor to the manipulating Lovett. Their first act closer, "A Little Priest," is a winner.
Also quite good are: Katrina Yaukey as Pirelli, a rival barber, and Benjamin Magnuson as the love smitten Anthony. As Toby, Lovett's baker's assistant, Edmund Bagnell has a great singing voice and brings an eager innocence to his role. Lauren Molina is Joanna, Sweeney's long lost daughter. In the past, I've seen Joanna played as fragile as a Lladro figurine. Here, Molina gives her a lovely giddy tinge.
It's a plus if you know the story. However, if you've never seen the show before, you'll no doubt find it satisfying as it unfolds. And if you've got the original production in the back of your mind, you'll have fun seeing how things have been re-imagined.
On that note, however, one thing that lacks impact is the song "City On Fire," sung by a deranged beggar woman. In the original, the song is triggered by what's billowing out of the smokestack at Mrs. Lovett's pie shop. The crazy old women is, ironically, the only one who sees that London's citizenry is actually being burned up -- hence "City On Fire." In this version, there's no oven on stage (which, in the original, also figures into one of Sweeney's murders), so there's less power to the crazy woman's claims.
The show's visuals, designed by Doyle and Richard G. Jones (lighting), are very imaginative, with a black coffin serving multiple purposes. Throughout, the tone is stark black and white, with the exception of some red glassware, a scarf and, of course, the blood, all of which makes those elements jump out.
In the end, Sweeney learns his lesson, finding that revenge only leads to hell. For the audience, it's a madhouse journey especially appropriate for the Halloween season.
"Sweeney Todd "is at The Colonial Theatre, 106 Boylston Street, through November 4. For information, call 617-931-2787.
Production Photo: David Allen
-- OnStage Boston