Stoneham Presents
East Coast Premiere Of
"Marilyn: Forever Blonde"
Stoneham Theatre will present the East Coast premiere of the one-woman play "Marilyn: Forever Blonde," from October 25 – November 11. Conceived and written by Greg Thompson, directed by Stephanie Shine, and starring Sunny Thompson as Marilyn Monroe, the show uses Monroe's own words and music to tell the story of the Hollywood icon's search for love and acceptance.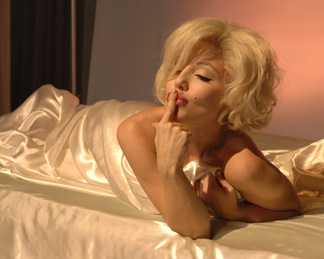 The time is 1962 and Marilyn Monroe is in the midst of a photo shoot. She is 36-years-old and while still beautiful, has lost the girlish charm that shot her to fame in her twenties. Divorced for the third time, living alone and frustrated by Hollywood, she has grown tired of her "sex symbol" label. She longs to be respected for her talent and loved for who she really is rather than the character she has created for the silver screen. What, she wonders, would be like to do it all over again.
Playwright Greg Thompson says "'Marilyn: Forever Blonde' is the story of the woman behind the legend. The sweet, ambitious, young starlet that fame turned into a tormented, manipulated, unstable woman who left us much too soon with only thoughts of what might have been."
In addition to Marilyn's own words, the play also features 17 songs from Marilyn's films, including works by such legendary composers as Irving Berlin ("You'd Be Surprised"), Cole Porter ("My Heart Belongs To Daddy"), Gus Kahn, Harold Arlen and Johnny Mercer ("That Old Black Magic"), among others.
Taking on the role of Marilyn with respect and determination, Sunny Thompson is an international recording artist with gold records and videos in Spain. She has also appeared Off-Broadway and in her own shows across the United States
"Marilyn was a woman in a man's world," says Sunny. "It has been important to Stephanie (the play's director) and to me to portray Marilyn not as a victim but as a career woman of the 1950s who did what it took in her day to succeed. To quote the play, 'I seem to have the whole superstructure with no foundation, but I'm working on the foundation.' Her life was a quest for love and acceptance for the person and the actress. She really was beyond the image of sex symbol."
"Marilyn: Forever Blonde" has met with critical success on tour, with San Francisco critic Lee Hartgrave calling Sunny's portrayal "one of the greatest performances of the modern stage." L.A. Weekly called the show "pitch-perfect Monroe" while BroadwayWorld.com said "it was hard to discern where Monroe stops and Thompson begins."
For information and tickets, stop by the Stoneham Theatre box office at 395 Main Street in Stoneham, call 781-279-2200 or visit www.stonehamtheatre.org.
NOTE:
The Pay Want You Want performance is Saturday, October 27, at 4 p.m.
A Talkback session will be held following the Sunday, October 28, matinee at 2 p.m.
-- OnStage Boston
Photo courtesy: Lipstick Productions, Inc.