Huntington Presents
World Premiere Of
Ronan Noone's "Brendan"
The Huntington Theatre Company will present the world premiere of "Brendan," Ronan Noone's comedy about the life of an Irish immigrant in Boston, from October 12 - November 17 at the Calderwood Pavilion at the Boston Center for the Arts.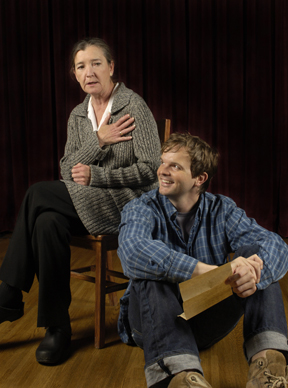 Directed by Huntington Artistic Associate Justin Waldman, "Brendan" got its start at the Huntington when it was read at the Breaking Ground Festival of New Plays in 2005 under the title "Smiler Becoming Yank."
Ronan Noone is an alumnus of the Huntington's Playwriting Fellows Program, and has had plays produced in Boston, New York, Los Angeles, Chicago and London. Earlier this season, the Huntington presented Noone's "The Atheist," also directed by Waldman and starring Campbell Scott.
In "Brendan," the title character has been in America more than five years and has found living in Boston not much different than in Ireland. But he's happy to have left an overbearing mother and a lot of other baggage across the ocean. Fond of beer and a classical music aficionado, Brendan's "Two-Pint Wednesdays" at the pub and quality time at home with Mozart keep him balanced as he carves out a new routine. But he can't shake the feeling someone is peering over his shoulder, judging his choices.

On the verge of gaining citizenship, Brendan's life is changed with the arrival of a letter from home. Everything he tried to forget is suddenly front and center again, making him realize he hasn't fully broken free of the old Irish sod. Now he's trying to clean up old memories while also making new ones.
"This play is close to my heart," says Huntington Artistic Director Nicholas Martin, "not only because it captures the rhythm of this unique city I love, but also because the Huntington has nurtured it for several years. 'Brendan' is a work of immense warmth and humor – a hallmark of Ronan's best writing. With Justin Waldman directing, I know 'Brendan' will capture Boston's heart and imagination the way it did mine."
Irish-born Ronan Noone, one of this country's most exciting new theatre artists, is the first playwright in Huntington history to have two works premiered in one season. Noone began his collaboration at the Huntington as a Playwriting Fellow in 2004, which provided him artistic resources and a collaborative atmosphere to develop new work.

Martin adds, "Ronan's style is poetic and immediate, and he's lived much of what he writes, like so many of his Irish forebears."

An expatriate himself, Noone wrote "Brendan" as a funny, insightful meditation on what it means to restart one's life in a new country. It's the second of a planned trilogy of American plays that reflect an outsider's perspective on the U.S., following his acclaimed Irish-focused "Baile" plays.
The cast of "Brendan" includes new-to-Boston actors and returning faces from previous Huntington productions. They include:
Dashiell Eaves (as Brendan), who was previously seen in the Huntington's "Observe the Sons of Ulster" and appeared on Broadway in "Coram Boy," "The Lieutenant of Inishmore," "James Joyce's The Dead," "The Sound of Music" and "1776."

Nancy E. Carroll, an Eliot Norton Award-winning actress who has appeared at the Huntington as Miss Erickson in "Present Laughter," the Strega in "The Rose Tattoo" and Mrs. Martin in "Dead End."

Ciaran Crawford, who appeared in two Ronan Noone plays in New York and was seen in the Breaking Ground Festival reading of "Smiler Becoming Yank."

Natalie Gold, seen on Broadway in "Festen" (understudy) and Off Broadway in "Howard Katz," "Twelfth Night" and "Unfold Me."

Kelly McAndrew, who appeared in the recent Broadway production of "Cat on a Hot Tin Roof." She has worked Off Broadway and in regional theaters.

Kathleen McElfresh, a Yale Drama School graduate, appeared Off Broadway in "The Frugal Repast," and has several regional credits, including Dallas Theatre Center's "Pride & Prejudice."

Cliff Odle, who understudied two August Wilson productions for the Huntington including "King Hedley II," during which he performed seven shows.

Tommy Schrider, who previously appeared in the Huntington's "Love's Labour's Lost." His Off Broadway credits include "Acts of Mercy."

Bradley Thoennes, who was seen in "King of the Jews" at Boston Playwrights' Theatre and in New Repertory Theatre's "The Pillowman."
For tickets and information, stop by the Calderwood box office at 527 Tremont Street, call 617-266-0800 or visit www.huntingtontheatre.org.
-- OnStage Boston