Stoneham Theatre will celebrate the holidays with Ralphie and his quest for an official Red Ryder BB Gun in an all-new production of "A Christmas Story," directed by Jack Neary. Philip Grecian's stage adaptation of Jean Shepherd's funny tribute to the original, traditional, All-American Christmas will run November 25 - December 23.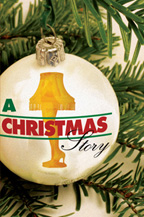 Since its movie debut in 1983, "A Christmas Story" has grown to become a holiday tradition. The Stoneham stage adaptation captures the wonder of 9-year-old Ralphie Parker's 1940s Christmas and his quest for a genuine Red Ryder 200-shot Carbine Action Air Rifle.
Faced with constant warnings from authority figures that "you'll shoot your eye out," he perseveres amidst a collection of youthful "disasters" and familial flaps. Along the way, he encounters the neighborhood bully, a visit to Santa gone awry, a dare that leads to a tongue stuck to a lamppost, an ugly Leg Lamp and more.
According to Jack Neary, "It's a very funny show, but what attracts me to the play is its unabashed embrace of true sentiment." He adds, "There is nothing heavy-handed about the story or the writing. The characters are real, the holiday atmosphere is honestly pervasive and in no way imposed on the story, and, most importantly, it's a play about family members who love each other, and show it."
The Stoneham cast features Mark Cartier as grown-up Ralph Parker (narrator), Robert Murphy as The Old Man, Lisa Tucker as Mother, Penny Benson as Miss Shields and Michael Dell'Orto as Santa. The six child actors include: Derek Santos as Ralphie Parker, Evan Robinson-Johnson as his little brother Randy, Adam Fisher as Flick, Khalil Flemming as Schwartz, Gillian Gorson as Helen, Zach Camenker as Scut Farkas and Rebecca Stevens as Esther Jane.
Philip Grecian began his "show business" career at the young age of four as a ventriloquist and a magician. He made professional debut with Creede Colorado Repertory Theatre and continues to maintain a connection with the theatre as a playwright and guest performer. He spent six seasons as Artistic/Managing Director and Resident Playwright for a theatre company he founded at the age of 16, and in 1976 he left the company to create a professional dinner theatre.
In 1994, Grecian became Founding Director/Playwright for I.H.S. Productions, Inc., which annually produces his stage adaptation of "In His Steps," based on the Charles Sheldon novel. Other works include Dickens' "A Christmas Carol," "The Velveteen Rabbit," "The Dragon of Nitt," "Lion and the Lyre" (translated and performed in Russia), "Little Pills" (based on Moliere's "Imaginary Invalid"), "Toby Saves the Farm" and a translation of Mozart's "The Magic Flute."
Mr. Grecian has also adapted many novels and films into plays for staged radio dramatization, including "Dracula," "Frankenstein," "Twisted Tales of Poe," "The Blood Countess" and "It's a Wonderful Life."
Jacky Neary recently staged his adaptation of "The Turn of the Screw" at New Century Theatre, "Sleuth" at the Foothills Theatre, and his own plays "Beyond Belief," "First Night" and "Jerry Finnegan's Sister," all in Western Massachusetts. At the Lyric Stage in Boston, he directed an early version of "Beyond Belief" and "Lend Me a Tenor." The Lyric recently produced his "Kong's Night Out." His comedy "Jerry Finnegan's Sister" is currently running in Paris under the title "La Sœur de Jerry King." His series of plays for young audiences, The Misdirected Theatre Presents..., is currently featured by Boston's Makeshift Theatre Company, and his ten-minute plays have been part of all but one Boston Theater Marathon since its inception. As an actor, he's appeared at the Foothills Theatre as Amos in "Chicago" and Maurice in "Beauty and the Beast," and on recent episodes of NBC'S "Law and Order" and Showtime's "Brotherhood."
Tickets for "A Christmas Story" are available by calling the Stoneham Theatre Box Office at 781-279-2200 or visiting www.stonehamtheatre.org.
NOTE: The performance on Saturday, November 25, at 4 p.m., has been designated Pay What You Want! These tickets will be sold an hour prior to the performance, on the day of performance only, for cash only, with correct change required. This offer may not be combined with any other offers. Maximum number of tickets per order is 6.
-- OnStage Boston