"Stomp," the international percussion sensation, will make its return to Boston for a limited two-week engagement December 5 - 17 at The Colonial Theatre.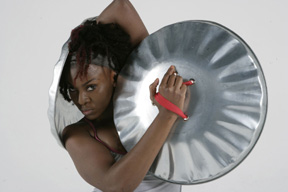 After playing to sell-out houses at New York City's Orpheum Theatre for twelve seasons, "Stomp" continues its phenomenal success with one North American touring company and two productions overseas (one permanent London company and a European tour).
The young and vibrant cast of performers "make a rhythm out of anything we can get our hands on that makes a sound," says co-creator/director Luke Cresswell.
"Stomp" uses everything but conventional percussion instruments -- trash cans, tea chests, plastic bags, plungers, books, soda cups and hubcaps -- to fill the stage with compelling and infection rhythms. Stiff bristle brooms become a sweeping orchestra, Zippo lighters flip open and closed to create a fiery fugue; and wooden poles thump and clack in rhythmic explosion.
From its beginning as a street performance in the United Kingdom, "Stomp" has grown into an international hit, having entertained audiences in more than 350 cities in 36 countries.
Described by the New York Times as "Electrifying," "Stomp" is the recipient of the Olivier Award for Best Choreography (London's version of the Tony Award), a New York Obie Award, a Drama Desk Award for Unique Theatrical Experience, and a Special Citation from Best Plays.
For tickets and information, stop by the Colonial box office at 106 Boylston Street, call 6174-931-2787 or visit www.BroadwayAcrossAmerica.com.
-- OnStage Boston