A Review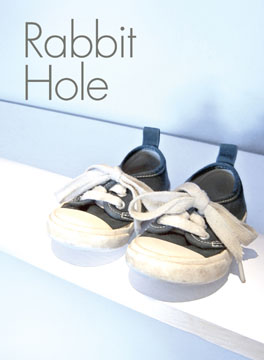 Sorrowful Tale Lacks Connection
By R. J. Donovan
By its very nature, grief should be painful. The grief over losing a four-year-old child should be so painful that's it's almost unbearable.
So it comes as a letdown that, in examining the aftermath of a child's accidental death, David Lindsay-Abaire's "Rabbit Hole" does not register with more agonizing impact in its production at The Huntington Theatre.
All the pieces are there. But the story and the performances don't have the startling jolt on stage that they might promise on the page.
The story begins several months after the death of four-year-old Danny in suburban Larchmont, New York. His parents are slowly and cautiously trying to resume their lives.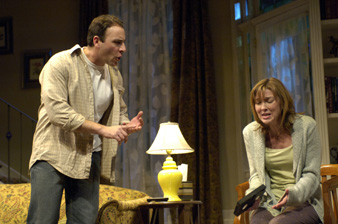 The center of the plot, and the heart of the play, is Becca, the mother, played by Donna Bullock (at left). When we first meet her, she's getting rid of some of the boy's clothes. We soon learn that she's consciously or unconsciously erasing any trace of the child ever being there. When she accidentally tapes over a video of Danny's activities, her husband (Jordan Lage, with Bullock above) implodes, accusing her of intentionally sabotaging the memory of his son.
Normally, your heart would crumble, but here the mother comes off as less than sympathetic. Which in turn makes you feel insensitive yourself for not caring more.
Filling out the small cast are: Becca's flighty sister Izzy (Geneva Carr), who, so soon after Danny's death, adds to the family's level of tension by announcing her own unplanned pregnancy; their wine-loving mother Nat (Maureen Anderman) who launches into a lengthy and uncomfortable theory about the Kennedy family; and Jason, the quirky high schooler (Troy Deutsch), who's responsible for Danny's accident. Deutsch has an extended scene with Bullock in which he speaks of his graduation and upcoming college career. As Director John Tillinger has Deutsch playing the role, one would question the boy actually finishing high school, let alone being accepted by any college.
What is first rate is the play's visual quality, an area in which Huntington designers always seem to excel. James Noone's highly detailed set comes in three sections. A kitchen set rolls off into the wings to accommodate the arrival of the family's living room. And those two pieces later split and slide away to allow Danny's bedroom to float towards the audience.
"Rabbit Hole's" original run on Broadway racked up several Tony nominations, including one for Best Play. That level of distinction indicates a caliber of emotional connection that's oddly not evident here.
And walking out of the theatre after this kind of a story without feeling that visceral connection is sad indeed.
"Rabbit Hole " is at The Huntington Theatre, 264 Huntington Avenue in Boston, through December 3. For information, call 617-266-0800.
Production Photos: Eric Antoniou
-- OnStage Boston