A Review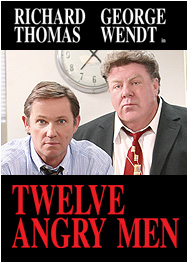 The Verdict Is In
By R. J. Donovan
The riveting courtroom drama, "Twelve Angry Men," was originally written ny Reginald Rose for CBS-TV's 1950s anthology series, "Studio One." It later become a classic Sidney Lumet film starring Henry Fonda, Lee J. Cobb, Jack Klugman and Martin Balsam, among others. Showtime remade the film in 1997 with a cast that included Jack Lemmon, George C. Scott and James Gandolfini.
It's therefore surprising to note that, until very recently, the piece was never done on Broadway. Many people assumed it followed the standard stage-to-film route, but that's not the case. And 50 years later, in today's climate of high-tech crime dramas, the play stands up against the best of them in laying out its detective work and character development.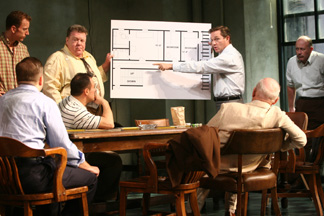 New York's respected Roundabout Theatre brought it to the stage for a highly successful production in 2004, and it's that production (with a new cast) that's making a two week stop at The Colonial Theatre on its national tour. The production is under the artful direction of Scott Ellis.
As this is a true ensemble piece, there's no real star role. However, the two actors who receive above-the-title billing are Richard Thomas and George Wendt. The rest of the company is no less talented.
Played in real time, "Twelve Angry Men" takes place in the sweltering jury room of a New York City court house. A young delinquent is on trial for murdering his father. Off stage, the case has come to its conclusion and we join the story as the jury files into the room to deliberate.
At first, the blustering, headstrong group of men appear united in their decision that the kid is guilty -- which means he'll receive the death sentence. However, it turns out there's one dissenting juror who's not sure. It's not that he thinks the young man is innocent; he's just not positive he committed the crime. Enter "reasonable doubt."
When the forman takes an immediate tally of opinions so they can make a quick verdict and get with their lives, the lone voice votes Not Guilty, incensing the other eleven and sending us on an hour and a half journey that reveals as much about the jurors as it does about the court case.
George Wendt plays the jury forman, and Richard Thomas is dissenting Juror #8 (the Fonda role). Although Wendt isn't given a lot of emotional moments in the script, Thomas does a masterful job as the questioning voice among a headstrong group. He skillfully shows that a quiet voice can be as powerful as a boisterous one. Through his persistent discussion, Juror #8 begins to cause some of his previously confirmed colleagues to question their decision by forcing each come up with substantiation for their own doubt. The self-revelation proves far more persuasive than any evidence he might offer.
Playwright Rose identifies the jurors only by their numbers. While we never learn their names, we come to learn far more about them as men when they reveal their individual prejudice and personal bias through the often heated discussion.
Although this is a real ensemble company,each actor has his moment to stand out. Randle Mell is powerful as the obnoxious loud-mouth who's estranged from his own son and arrogantly wants to serve as judge, jury and executioner. Julian Gamble, frightening real as the outraged bigot, has a piercing speech towards the end of the play. Alan Mandell plays elderly Juror #9 and shows that an old man should not be easily dismissed. Jim Saltouros is the thoughtful "everyman" house painter. Mark Morettini is blustering Juror #7 who's more concerned about missing a baseball game than coming to a just decision. And David Lively is the European watchmaker who, in his verbal tangles with the bigot, gets in a few well placed jabs.
As Thomas' character is the catalyst for exposing what's under the skin of the other men, we learn very little about his own backstory. However, moments before the drama's conclusion, Thomas has a subtle but brilliant bit of stage business that serves to reveal as much about Juror #8 as anything we've learned about the others.
Not without its moments of humor, "Twelve Angry Men" is capable of producing goose bumps. The taut, tense drama is an electrifying example of fine writing, acting and directing colliding to spectacular effect.
"Twelve Angry Men" is at The Colonial Theatre, 106 Boylston Street, through November 19. For information, call 617-931-2787.
Production Photos: Joan Marcus
-- OnStage Boston