A Review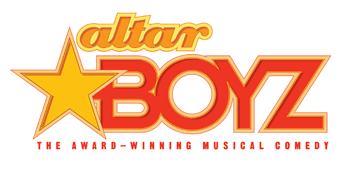 Givin' A Shout Out To God
By R. J. Donovan
The stage of The Colonial Theatre is set for a rock concert. The Altar Boyz, a five-member Catholic boy-band, are in town for the last night of their Raise The Praise Tour, and they want to go out with a bang.
They sing of their faith, they dance up a storm, they give us the backstory of how they all got together in the first place, and in the end, they're hoping to save every soul in the audience through their music. In fact, the Sony DX-12 Soul Sensor hangs over the performance area tallying up how many audience members have yet to be converted.
And that's the premise for what turns out to be a high energy night of fun.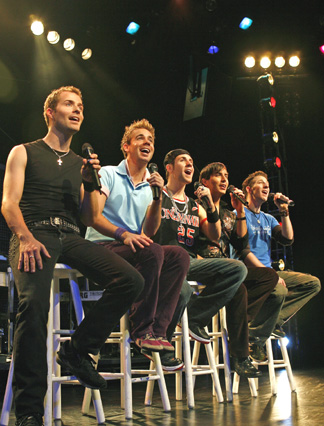 "Altar Boyz" is a spoof of every boy-band that ever grabbed a microphone.
Good looking young guys who sing their hearts out, they realize the power they command as a group. They tell us with deadpan devotion: there's no harmony in a single voice, and no star that shines as bright as a constellation.
The theme for these guys is religion -- never blasphemous, and always musical. They sing of finding your way, messages from above, sacrifices to make and salvation to come. And it's all done with high-tech pop power and some fairly sharp humor via some very clever lyrics.
Songwriting credits go to Gary Adler and Michael Patrick Walker, with a book by Kevin Del Aguila based on a concept by Ken Davenport and Mark Kessler. Choreography is by Christopher Gattelli, and the production is directed by Stafford Arima.
With names snatched right out of The Good Book, the guys in the band are (above, left to right), hunky Matthew (Matthew Buckner), sensitive Mark (Ryan J. Ratliff), street-wise Luke (Jesse JP Johnson), Ricky Martin wannabe Juan (Jay Garcia) and the token outsider of sorts, Abraham (Nick Blaemire).
Totally 'N Sync as a group (sorry about that), each member of the ensemble gets a moment in the solo spotlight, with Johnson showing off a killer voice, Garcia stretching his comedic muscles in "La Vida Eternal" and Ratliff getting one of the biggest hands of the night when he summons up the spirit of Jennifer Holliday to come out of the closet -- as a Catholic.
In addition to the sharp humor, the show serves up some great singing and dancing. The friend who attended with me (and who has made his living in the pop music world) commented later that the staging was so convincing he had to remind himself it wasn't an actual concert.
My only gripes with the show are as follows. First, the sound should have been much sharper and brighter. When you've got lyrics this good, they can't be buried in a muddy mix. And second, since "Altar Boyz" opened in New York two years ago, the powers-that-be have altered the show's logo and artwork to include a cheesy cartoon of the five guys bouncing down the road in a car. The graphic is straight out of a kiddie show cashing in on the Saturday morning crowd. All that's missing is a headline that screams, "Scoobie-Doo! Live On Stage!"
With those minor criticisms aside, "Altar Boyz" is a tuneful, enthusiastic experience that seeks to spread the word without ever pretending to be a catechism lesson. It's entertaining, it's savvy, and it does it all with a wink and a nod.
It's "Godspell" for the new millennium.
"Altar Boyz " is at The Colonial Theatre, 106 Boylston Street, through November 5. For information, call 617-931-2787.
Production Photos: Carol Rosegg
-- OnStage Boston