North Shore Music Theatre in Beverly will present its 18th Anniversary production of Charles Dickens' "A Christmas Carol" from December 1 through December 24.
Since its World Premiere 18 years ago, this unique production, created specifically for NSMT audiences, has entertained more than 1 million people, including more than 100,000 school children. The production will be directed by North Shore's Artistic Director and Executive Producer Jon Kimbell. A quartet from NSMT's Youth Performance Choir will be caroling in the lobby before all performances.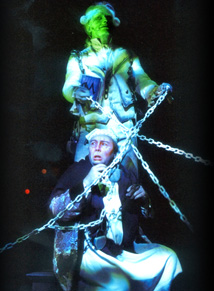 With special effects that have grown over time, traditional and original songs, and colorful costumes, "A Christmas Carol" tells the tale of miser Ebenezer Scrooge, who is visited by the ghosts of Christmases Past, Present and Future, all hoping to change his destiny and save his soul.
This original musical adaptation by NSMT Artistic Director and Executive Producer Jon Kimbell and members of the NSMT staff, follows Scrooge through a series of strange and magical journeys, where he ultimately discovers the true spirit of the holiday season.
"A Christmas Carol" marks David Coffee's 15th consecutive year playing Ebenezer Scrooge and his amazing 41st appearance at NSMT. David most recently played Harriman F. Spritzer in NSMT'S Regional Theatre Premiere of "Hairspray." This season, David has also been seen in "Singin' in the Rain" and "Cinderella."
Kimbell commented, "Our production of 'A Christmas Carol' is near and dear to my heart, as it is for many of our patrons who have made it a holiday tradition for their families. After 12 years, it is my pleasure to return to directing this year's production which stays true to Charles Dickens' timeless tale. Our adaptation of 'A Christmas Carol' is truly a musical ghost story with a message that's as poignant and heartfelt today as it was when it first premiered."

Throughout the run of "A Christmas Carol," the theater will be collecting unopened, unwrapped toys for boys and girls ages 2 – 12 for Tiny Tim's Toy Drive. All toys will be donated to three area organizations: Beverly Children's Learning Center, Beverly Bootstraps and Headstart of Peabody.

Audience Enrichment events:
Christmas with the Cratchits - December 10, 17 and 24 prior to the 2 p.m. shows
This very popular free pre-show discussion focuses on the origins of the popular traditions that patrons have come to associate with the holiday season. To participate, gather in the North Shore Music Theatre Lobby at 1:00 p.m. Program begins promptly at 1:15 p.m.

Grandparents Day - December 3
NSMT welcomes grandparents and grandchildren to attend the Sunday, December 3, performance of "A Christmas Carol" and enjoy a post-show reception in NSMT's Broadway Club. The dessert reception will feature special gifts for attendees and visits from members of the cast of "A Christmas Carol." Tickets to the Grandparents Day reception (which does not include the show ticket) are $5.00 per person and can be purchased by calling or visiting the NSMT Box Office.

Out at the North Shore - December 15
This evening for the Gay and Lesbian Community includes a free post-show reception with live entertainment and members of the cast. Sponsored by In Newsweekly, Greater Boston Business Council, Beverly Athletic Club, Different Tastes, Barefoot Wine, and The Pub @ 47 Central.
For tickets and information, stop by the box office at 62 Dunham Road (Route 128, exit 19) in Beverly, call 978-232-7200 or visit www.nsmt.org.
-- OnStage Boston