Trinity Rep will present Conor McPherson's "Dublin Carol" starring celebrated television, film and stage actor William Petersen (TV's "C.S.I.: Crime Scene Investigation") for a five-week run in the Dowling Theater, November 30 through January 7. Joining Peterson in the three person cast are Trinity Rep Company member Rachael Warren and Brown/Trinity Consortium student Daniel Mefford ('07).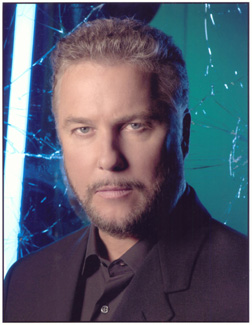 Directed by Amy Morton, associate artist with Steppenwolf Theater, this intimate gem of a play takes place in Dublin, on Christmas Eve. Undertaker John Plunkett's life of reckless drinking has left him almost totally alone. When a young woman named Mary enters Plunkett's office, he discovers a last chance to right some things from his past.
Playwright McPherson has long been praised for his ability to hold audiences spellbound with tales of lost souls and troubled lives. As he explained in the New York Times: "People have always said that the heart of drama is conflict. I find that there's enough conflict in one person to make a whole play -- all those swings, the oscillation in the mind, the self-doubt, the uncertainty, the stupid courage, the terrible feelings of inadequacy -- that's more than enough."
McPherson was born in Dublin in 1971 and attended University College Dublin where he began to write and direct. His plays include "Rum & Vodka," "The Good Thief," "This Lime Tree Bower," "St. Nicholas," "The Weir(Olivier Award, Best Play), "Dublin Carol," "Port Authority," "Shining City" (Tony Award nomination, Best Play) and "The Seafarer." His film work includes "I Went Down," "Saltwater," Samuel Beckett's "Endgame" and "The Actors."

With a distinguished career in film, theater and television, William Petersen is perhaps best known for his starring role in the highly rated and critically acclaimed CBS drama "C.S.I: Crime Scene Investigation."
He made his Broadway debut in Tennessee Williams' "The Night of the Iguana," which originated at the Goodman Theater. His theatrical productions include the American premiere of David Mamet's "Glengarry Glen Ross" and "The Time of Your Life" at the Goodman; "Balm in Gilead" and "Fool For Love" at Steppenwolf; "In the Belly of the Beast" at Wisdom Bridge, the Kennedy Center and the Edinburgh Theater Festival; "American Buffalo," "Speed-the-Plow," "Twelfth Night," "Macbeth," "As You Like It," "Waiting for Godot," "A Streetcar Named Desire" and "Flyovers." His films include "To Live and Die in L.A.," Michael Mann's "Manhunter," Joel Schumacher's "Cousins" and the political thriller "The Contender" with Joan Allen, "Kiss the Sky," "Fear," "Young Guns II'" and "The Skulls".
Talkback sessions will be held after every performance of "Dublin Carol." A staff member will moderate talkbacks for approximately twenty minutes and audiences are invited to share their response to the production.
For tickets and information, stop by the box office, 201 Washington Street in Providence, call 401-351-4242 201 or visit www.trinityrep.com.
Trinity's Pay What You Can (PWYC) performance for Dublin Carol will be held on Friday, December 1 at 8:00 PM Sponsored by The Rhode Island Lottery, PWYC tickets go on sale at 7:00 pm, limit one per person.
-- OnStage Boston