SpeakEasy Stage has another New England premiere up its sleeve with the off-Broadway musical "The Bubbly Black Girl Sheds Her Chameleon Skin," playing at the Calderwood Pavilion from November 17 - December 9.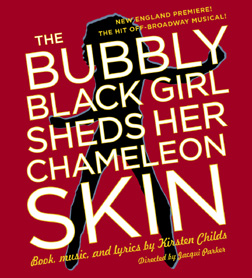 Norton Award winner Jacqui Parker (who scored heavily as the star of last season's "Caroline, Or Change") will direct, and Boston Conservatory junior Stephanie Umoh will star. The show, which the New York Times described as a "sharp, and tasty new musical," features a book, music and lyrics by dancer-turned-playwright/composer Kirsten Childs.
"Bubbly Black Girl" follows a young African-American woman, Viveca "Bubbly" Stanton, from LA to New York and across three decades as she pursues her dream to become "the greatest dancing star in the world."
More than just another backstage show biz saga, "Bubbly Black Girl" incorporates some of the history of the era into its story, from the bombing of four little black girls in Alabama in the 60s to the racial and sexual politics of the 90s.
The musical, which is loosely based on Mrs. Childs' own life, was originally produced by Playwrights Horizons in New York in June of 2000. That production featured LaChanze, who has gone on to such major things as "The Color Purple." Recently, the original cast reunited to record the show, which will be released in the spring of next year by Sh-K-Boom records.
A native of Chicago, Kirsten Childs had a successful career as a Broadway dancer before becoming a composer/lyricist. Despite little formal dance training, she got the first show for which she auditioned, a national tour of Bob Fosse's "Chicago," and went on to appear in productions of "Dancin," "Jerry's Girls" and "Sweet Charity."
Ms. Childs transitioned from dancing to writing in part as a response to losing may dancer friends to AIDS, but mostly with the intention of creating work for the many talented African-American actors she knew.
Since "Bubbly Black Girl," she has had a number of works produced, including "Wasted" at the George Street Playhouse, "If You Give A Mouse A Cookie (Amazing Grace)" by Theatreworks/USA and most recently "Miracle Brothers" at the Vineyard Theatre. Ms. Childs has also written songs for jazz vocalist Dianne Reeves and is currently working on original musicals with playwright Charles Randolph-Wright as well as novelist Walter Mosley.
Director Jacqui Parker is Artistic Director of the Our Place Theatre Project and founder of Boston's African American Theatre Festival, for which she recently wrote and performed in "Dark As A Thousand Midnights." A Norton and IRNE Award-winning actor, director and playwright, Jacqui was also named Boston's 2004 Theatre Hero by StageSource.
Boston Conservatory junior Stephanie Umoh is making her SpeakEasy debut as Bubbly in this production. A native of Texas, she attracted the attention of Boston's theatre audience last spring as Sarah in New Repertory Theatre's production of "Ragtime."
For tickets, call 617-933-8600 or visit www.BostonTheatreScene.com. Note that Student Rush tickets, subject to availability, may be purchased at the box office only, one hour prior to performance for $14 with a valid college ID.
-- OnStage Boston