A Review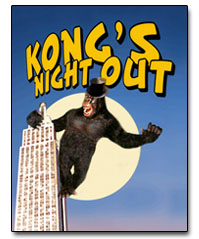 What A Magilla!
By R. J. Donovan
Lyric Stage Company of Boston has chosen to conjure up the spirit of the screwball comedy with "Kong's Night Out," the final production of its 2005-2006 season. The production is directed by Lyric's Producing Artistic Director, Spiro Veloudos.
Not unlike "Wicked," "Kong's Night Out" takes a cultural icon and shows us what else was happening just beyond the edge of story we already know.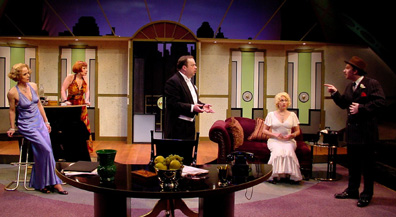 Broadway producer Carl Denham is about to unleash the biggest monkey in the world on the New York entertainment community. The exact details of the stage spectacular are very hush-hush, but we know it's the debut of King Kong. We also know the evening will end in disaster with Kong swatting at airplanes from the top of the Empire State Building.
What we didn't know (until now, anyway) was that while the rest of the show biz world was anxiously awaiting Denham's opening night, his competitor, Myron Siegel, was all hot and bothered because he was about to open a show of his own -- "Foxy Felicia" -- on the very same night.
Ya see, there's a feisty, generations-old competition between the Siegel and Denham families. And Siegel always seems to get trounced at the box office by Denham. But to be honest, Siegel's past shows have left something to be desired. Take, for example, his production of "Bovine Ballyhoo" starring a chorus of overweight tap dancers. Or his presentation of Macbeth with midgets.
With this new stage show from Denham, Siegel's opening night crowd keeps canceling in favor of the unknown spectacle across the street. Will Siegel go bust? Will Denham best him again?
One woman who hopes not is Siegel's loud-mouth, foul-mouthed Mom, who's invested heavily in Siegel's show and stands to lose a bundle if the Kong appearance steals their thunder.
Adding to the plot, Siegel's wife is secretly having an affair with Denham. He also has to contend with his wide-eyed niece, in from Buffalo in search of a career in the bright lights of Broadway, a Rumanian investor with a hideous toupee, a bodyguard/henchman who's a New-Word-A-Day addict, the blonde chorine who's the secret object of the big ape's desire and the chorine's thick-skulled boyfriend.
Along the way there's mistaken identity, secret notes, enough slamming doors to qualify this as a French farce (which the cast dutifully references) and the actual appearance of Kong himself (sort of) in the second act.
Larry Coen is a ball of frantic desperation as Myron Siegel. Ellen Colton, who most recently scored big in SpeakEasy's "Brooklyn Boy," is the overbearing Mom who's headed to a job as an over-aged hat check girl if "Foxy Felicia" bombs.
Lordan Napoli is the virginal niece who's amazed by just about everything she sees. Timothy Smith is Denham, M.J.J. Cashman is the blustery investor, Steve Gagliastro is the henchman, Christopher Loftus is the jealous boyfriend, Sarah Abrams is Ann Darrow (who's made Kong all dewey-eyed) and Rachel Harker is the duplicitous wife.
Written by Jack Neary, the show is a product of Lyric's Growing Voices program, which encourages the development of new work. While "Kong's Night Out" has its share of laughs, it's not as tight as it might be. Some of the dialogue falls flat, several of the plot points are overused (how many times can you really make the same joke about being from Buffalo), and the ending involves more screaming than inspired invention.
At the same time, Neary captures the wise-cracking sound of the period with phrases like "pitching woo," "peachy keen" and "none of your beeswax." And Timothy Smith is faithful to the same feeling with his very funny creation of Denham.
The pace of the show remains brisk, but some of the action makes little sense. Slamming doors are not, by themselves, funny. And one sequence has the henchman and the boyfriend making multiple exits and entrances for no real reason. Their conversation is necessary for the purpose of imparting plot points, but there's no motivation for the action. They just race on and off and on and off.
As a work in progress, "Kong's Night Out" comes with a good framework. But it needs more solid meat on its funnybones.
"Kong's Night Out" is at Lyric Stage, 140 Clarendon Street in Boston, through June 3. For information, call 617-585-5678.
Production Photos: Steve Clyve
-- OnStage Boston
05/12/06