A Review

Amazing Grace
By R. J. Donovan
SpeakEasy Stage is concluding its season with a moving production of a remarkable show. "Caroline, Or Change" arrived on Broadway the season before last and captured the attention of critics and audiences alike.
But this is not a walking-out-of-the-theatre-humming-the-songs show. While it's pretty much sung-through, it's not like the more mainstream "Le Miz" or "Miss Saigon." Rather, it's an imaginative creation of its own, telling the story of an African-American maid and the Jewish family she works for in Lake Charles, Louisiana.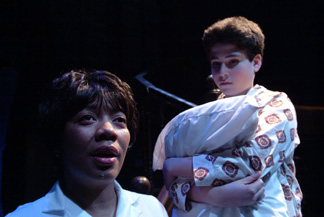 The love-and-loss, race-class story is set against the political and social tremor of the early sixties, marked by Vietnam and the assassination of JFK. The pivotal focus is on Caroline Thibodeaux, the maid (Jacqui Parker, left) , and Noah (Jacob Brandt, right), the family's young son.
Noah's Mom has died of cancer and the young guy is adrift in a household with a distant father, recently remarried to a woman from New York who's completely out of place, geographically and emotionally.
Although Noah idolizes Caroline, his inherent unhappiness and struggle is mirrored by her own. A single Mom with young kids and a dead-end job, she's trapped in a world that's sucking the very life out of her.
Underscoring the "upstairs-downstairs" shading of the story, Caroline spends most of her time doing the laundry in the drab basement -- one of the only basements in water-soaked Lake Charles -- while the family is upstairs. Noah is further distanced in his bedroom on the second floor.
With book and lyrics by Tony Kushner and music by Jeanine Tesori, the story is loosely based on incidents from Kushner's childhood. The part folk opera, part gospel, part blues score is intriguing. Beyond the character songs, Caroline's laundry room appliances serenade her as she ponders her life and her chores. In less capable hands, this might not work. But with this creative team, it cleverly informs and expands the emotional line of Caroline's world.
The show's title makes reference not only to change in a social, emotional and political sense, but to the spare change Noah regularly leaves in the pocket of his pants. His stepmother tells Caroline to keep whatever she finds when she's doing the laundry in an effort to teach Noah a lesson about respect for money. Noah, however, has the upper hand in his stepmother's scheme until he makes an innocent mistake that almost tears the story apart.
The weight of the show lies firmly on the shoulders and talents of the actress playing Caroline. In the SpeakEasy production (produced in association with North Shore Music Theatre), director Paul Daigneault has come up with a winner in Jacqui Parker, one of the city's most acclaimed talents. She creates a drained, depleted Caroline who's slipping further and further away from life.
Jacob Brandt is a very good Noah. He's proven himself in previous productions (particularly in the Huntington's "Falsettos"), and this young guy has an easy, unaffected way about him that lends tremendous credibility to his performance.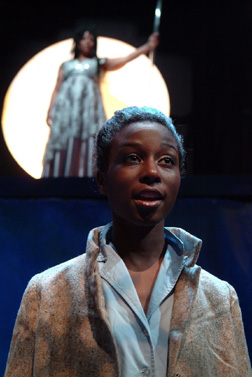 Merle Perkins is very good as Caroline's friend, Dotty, who's making a better life for herself. Shavanna Calder (left) gives a strong performance as Caroline's headstrong daughter Emmie, representing tomorrow's woman. And Sarah Corey does a nice job as stepmother Rose, who's trying too hard to love Noah. From her distant relationship with father and son, it's amazing Rose chose to become a part of this family in the first place.
The chorus of appliances and objects include: Emilie Battle, Nikki Stephenson and Anich D'Jae Wright as the Radio Trio; Brian Richard Robinson as both the Dryer and later as The Bus; and A'lisa D. Miles as both the swirling Washing Machine and the lyrical Moon.
"Caroline, Or Change" caps the SpeakEasy season with an evening of enormous grace.
"Caroline, Or Change" is at The Calderwood Pavilion at the Boston Center for the Arts, 527 Tremont Street in Boston, through June 3. For information, call 617-933-8600 or visit www.BostonTheatreScene.com.
Production Photos: Craig Bailey / Perspective Photo
-- OnStage Boston
05/11/06