Since the beginning of its 2006 winter/spring season, Boston-based Chamber Repertory Theatre has performed in 85 cities in 25 states across the country.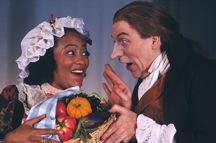 From St. Petersburg to St. Louis to San Antonio, CRT has entertained young audiences with his highly acclaimed production of "Encore!," which dramatizes short stories by such masters as Edgar Allen Poe ("The Tell Tale Heart"), Mark Twain ("The Celebrated Jumping Frog of Calaveras County"), Washington Irving ("The Legend of Sleepy Hollow" - left), W. W. Jacobs ("The Monkey's Paw") and Guy de Maupassant ("The Necklace").
Boston remains CRT's most popular destination. The company's performance schedule locally and throughout New England includes the following:
May 1
Rochester Opera House
Rochester, NH
May 2
Capitol Center for the Arts
Concord, NH
May 4 - 5
John Hancock Hall
Boston, MA
May 8
Merrill Auditorium
Portland, ME
May 9
Palace Theatre
Waterbury, CT
May 10
Lyman Center / Southern Connecticut State University
New Haven, CT
During its 25 year history, Chamber Repertory Theatre has thrived under the guidance of its producing director, Spring Sirkin, a Tony Award winner (1966) for producing Terrence McNally's "Master Class." She is also one of the producers presenting the current Broadway revival of Brian Friel's "Faith Healer," starring Ralph Fiennes and Cherry Jones.
For information, call 1-800-225-7988 or visit www.chambertheatre.com.
-- OnStage Boston