Blue Man Group Boston has launched the Blue Man Group Mobile Community's "Connecting The Disconnected" text messaging campaign.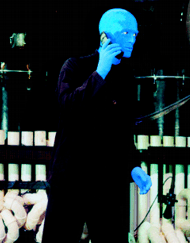 "Using this relatively new mode of communication, we plan to be interactive, bringing together members of the Blue Man Group fan base as well as energizing interest so that 'first timers' will get involved," explains Blue Man Group Boston Resident General Manager Emily Brinkert.
The effort, including the set-up of the Blue Man Group Mobile Community, encourages audiences to get connected to the Boston theatrical production and to each other, through SMS-based opportunities such as backstage tours, ticket contests, merchandise giveaways, community events and mobile member-only performances.
The first text messaging promotion, "Behind the Scenes at Blue Man Group," will give one lucky winner and a guest the opportunity to see the show from the coveted poncho seat section, meet Blue Man Group cast members, have their pictures taken with the Blue Men, take a guided backstage tour of the theater and bring home an original piece of Spin Art from the performance.

Mobile marketing technology provider g8Wave is supporting the campaign with its wireless offering and platform. Blue Man Group will be able to offer subscribers on all major North American carriers to join the Blue Man Group Mobile Community.
G8Wave's Director of Business Development, Jeff Ostiguy commented, "G8Wave is thrilled to be involved in the first mobile campaign for Blue Man Group." He added, "Blue Man Group is an integral part of Boston's cultural landscape and we hope g8Wave's support for this campaign will help connect more people to the one-of-a-kind Blue Man Group experience."
The Blue Man Group Mobile Community will be promoted through various advertising mediums and target different demographics – some of which are very new to SMS as a communications tool.
Consumers can access the Blue Man Group Mobile Community by texting "BMGmobile" to the short code 22122. Blue Man Group Mobile Community members will also stay connected by accessing the newly developed webpage online at www.blueman.com/mobile where mobile members can read about new contests, get the latest mobile news and read interviews with mobile contest winner.
-- OnStage Boston